Governing Takes Hard Work, Writes Veteran Statesman Lee Hamilton '52
November 8, 2014
"This country cannot be governed without compromise, dialogue and accommodation, and it comes apart at the seams when we go too long without them," writes Lee H. Hamilton. In a newspaper column, the former congressman and 1952 graduate of DePauw University examines the challenges of governing.
"I have been working in or around government for over 50 years, and if you asked me to boil down what I've learned to one sentence, it is this: Governing is much harder work than most people imagine. This doesn't excuse its lapses or sluggish rate of progress, but it does help explain them," notes Hamilton, a Democrat who served 34 years in the U.S. House of Representatives and later co-chaired the 9/11 Commission and Iraq Study Group.
"We often have disagreements in politics, but good politicians know we have no choice but to work through them. The best want to bring different groups of people together, not pull them apart. They understand that not all the good ideas come from one source, and they reject the idea of constant conflict and permanent gridlock. In a divided country with a government specifically set up to divide powers, we need to follow this process -- not because we want to but because we have to. They know, too, that you have to treat every person with dignity and respect, even though the clashes may be hard."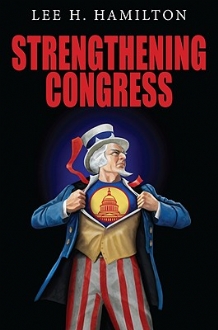 Hamilton, who was a history major and basketball standout at DePauw, earned a law degree from Indiana University. "Don't get me wrong," he declares. "The clash of ideas is important. In a dynamic system, with competing power centers and a panoply of interests trying to use their power to achieve their objectives, better policy -- a policy that more nearly reflects the will of the American people -- can emerge from this debate. Playing one side against the other, or merely stating the problem in order to rile up listeners -- these are easy. Moving ahead to reach a solution: that's the hard part. Which is why our system works so slowly. It's unwieldy, messy and often very noisy, but most of the time, it gets there.
"Yet there are no guarantees. Our system is not self-perpetuating. There is no automatic pilot. The question Abraham Lincoln asked at Gettysburg 151 years ago is as fresh today as it was then: Can a nation so conceived and so dedicated long endure? We're still finding out, but we know one thing: It will take hard work."
Access the complete essay, which is published in a number of newspapers across America, at the website of the
Omaha World-Herald.
Now director of the Center on Congress at Indiana University, Lee Hamilton has authored How Congress Works and Why You Should Care; Strengthening Congress; and A Creative Tension: The Foreign Policy Roles of the President and Congress. He co-authored (with Gov. Thomas Kean) Without Precedent: The Inside Story of the 9/11 Commission. He's also a member of the Indiana Basketball Hall of Fame.
In July, Hamilton received the 2014 Distinguished Service Award from the U.S. Association of Former Members of Congress.
Congressman Hamilton has been a frequent visitor to DePauw over the years and delivered an Ubben Lecture on March 15, 2011.
Back