Band and Orchestra Perform Prof. Jim Beckel's Music, Nov. 23–24
November 20, 2014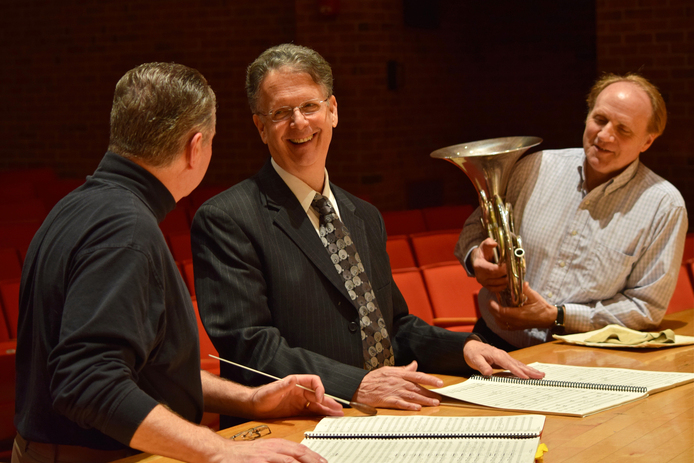 Members of the community have two opportunities to hear the music of DePauw School of Music professor of trombone James A. Beckel Jr., when the University Band and the University Orchestra feature music composed by Beckel in back-to-back concerts. The two performances -- in the Green Center for the Performing Arts' Kresge Auditorium -- will be given on Sunday, November 23 at 3 p.m. and on Monday, November 24 at 7:30 p.m. (photo, l-r: Professors Paré, Beckel and Danforth)
This weekend, when Craig Paré leads the University Band in the ensemble's last concert of the fall semester, Robert Danforth, DePauw music professor and principal horn of the Indianapolis Symphony Orchestra, will be the featured soloist on Beckel's Pulitzer Prize–nominated concerto for horn, The Glass Bead Game. The critically acclaimed work, now considered a part of the standard horn repertoire, is loosely based on the Herman Hesse novel of the same name. Samuel Barber's Commando March, his first piece for band, is also on Sunday's program, along with Ron Nelson's Lauds and Frank Ticheli's arrangement of "Amazing Grace." Bring a non-perishable food item to donate to the Putnam County Emergency Food Pantry and redeem that item for a free concert ticket.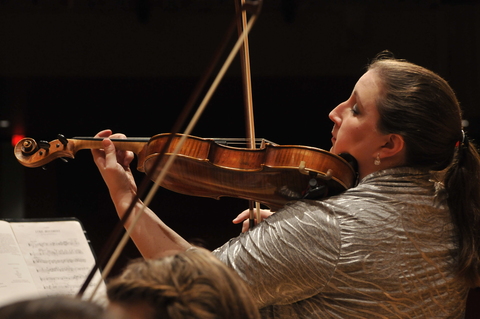 The following night, Jim Beckel, who is also principal trombone with the ISO, will take the stage to perform his new trombone concerto alongside the University Orchestra under the baton of Orcenith Smith. The concert will open with a performance of the overture to Claudio Monteverdi's L'incoronazione di Poppea, giving audience members a sneak peak of DePauw Opera's upcoming spring production. DePauw viola professor Nicole Brockmann will then join the ensemble as soloist in John Woolrich's Ulysses Awakes, a contemporary work inspired by Monteverdi's opera Il ritorno d'Ulisse in patria. The orchestra will also perform Haydn's Symphony No. 95, one of the composer's infamous twelve "London" symphonies.
Beckel, a graduate of the Indiana University School of Music, won the position of principal trombonist with the Indianapolis Symphony in 1969,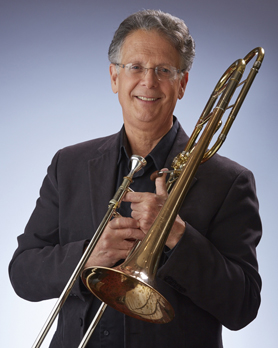 when he was only 20 years old. A member of both the DePauw and the University of Indianapolis music faculty, he has been named an Individual Arts Fellow through the Indiana Arts Commission and the National Endowment for the Arts and was one of 50 composers chosen nationwide to be part of the Continental Harmony Project.
General admission for each concert is $3. Tickets for all students, seniors and children are free thanks to season sponsors, Judson and Joyce Green ('74 & '75). To ensure that any person wishing to attend a performance is able to do so, a pay-what-you-can option is available, online and on request. To obtain tickets, visit https://www.depauw.edu/music/tickets or stop by or call the Green Center box office, (765) 658-4827.
Back