Bruce Bickner '65 is Phi Delta Theta's National Alumnus of the Year
November 24, 2014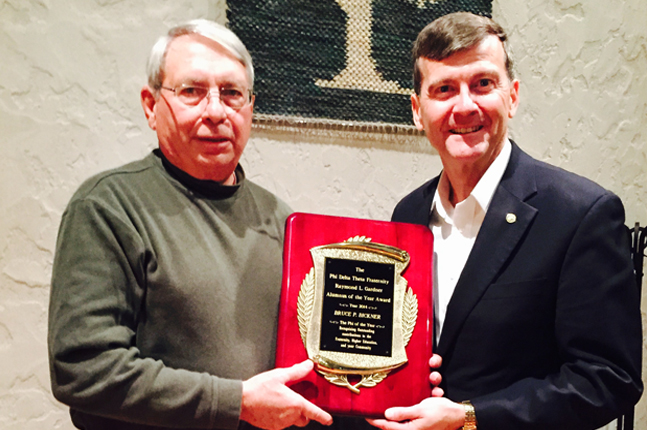 Bruce P. Bickner, a 1965 graduate of DePauw University, is the recipient of Phi Delta Theta national fraternity's 2014 Gardner Award (Alumnus of the Year). (photo, l-r, Bickner receives the award from Robert A. Biggs, executive vice president of Phi Delta Theta)
Bickner was honored "for his outstanding leadership and tireless efforts on behalf of Phi Delta Theta and his important endeavors in higher education and his community," notes the fraternity. "Bickner forged a successful career in law and business while serving with distinction in higher education governance at several institutions, notably the University of Michigan and its Law School, and as a community volunteer."
Bickner's long list of service activities includes being a member of DePauw's Board of Visitors. He also chaired the board of trustees at North Park University and served as that institution's interim president.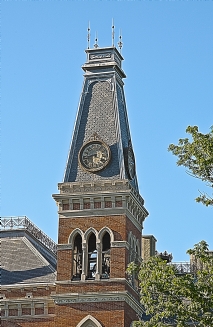 Bickner also served on the State of Illinois Governor's Biotechnology Advisory Council and received the David B. Hermelin Award for Fundraising Volunteer Leadership.
"For his Indiana Zeta Chapter, Brother Bickner led the charge for its 'Securing Our Legacy' capital campaign," notes Phi Delt. "With his lead gift and inspiration, the chapter house at DePauw has undergone $1million in safety, security and comfort upgrades.
A Rector Scholar at DePauw, Bickner was a political science major and served as chapter president of the Phi Delt chapter (Indiana Zeta).
Read more here.
Back