Nonprofit Honors Volunteer Efforts of Kacy Wendling '12
December 1, 2014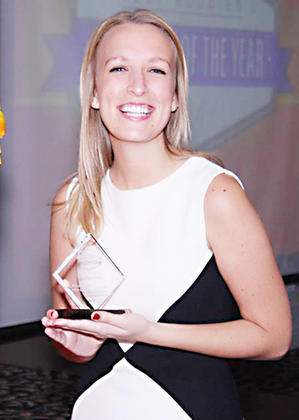 Kacy L. Wendling, a 2012 graduate of DePauw University, has been honored as 2014 Champion of the Year by the Best Buddies Indiana program. "She was chosen from among 13 candidates who put forth incredible effort to support friendship and inclusion for individuals with intellectual and developmental disabilities," reports the Banner-Graphic.
"Individually, Wendling raised more than $12,500 for her campaign in support of Best Buddies Indiana," adds the Greencastle newspaper of the sociology major. "Her dedication and commitment to spread the awareness about the mission of Best Buddies was and continues to be inspiring. Champion of the Year is an eight-week fundraising competition, featuring a select group of professionals and ambassadors."
The organization's state director, Natalie Seibert, is a 2003 graduate of DePauw. She says, "Our 2014 Champion of the Year, Kacy Wendling, organized several fundraising events and secured individual donations and corporate sponsorships all of which contributed to her efforts. She worked diligently and showed a lot of dedication to our mission through her efforts and

we are very grateful for her hard work and passion for Best Buddies."
Read more here.
You're also invited to visit Best Buddies online.
Back