The Next Level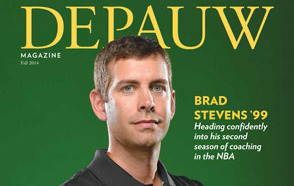 December 12, 2014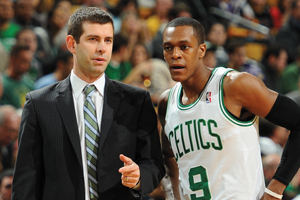 Celtics coach Brad Stevens with star guard Rajon Rondo.
On a Wednesday afternoon in late August, Brad Stevens '99 leads me through a warren of cubicles into a small conference room, as plain as you can imagine, with a rectangular table, a few chairs and a whiteboard on the wall. He's still about two months away from the opening game of his second season as head coach of the Boston Celtics. Most of the players are still on summer break, but Stevens is at work in the closed-to-the-public facility where the Celtics have their headquarters and practice gym in Waltham, Mass.
He handles the interview for DePauw Magazine pretty much the same way he handles all his work: without much noticeable emotion but with seriousness and focus. He talks about his transition last year from Indiana to Boston. And how he felt after the Celtics compiled a 25–57 record in his first season, a reversal of fortune compared to the 166-49 record he had in six seasons as head coach at Butler University. A discussion of how he regards the sometimes harsh media spotlight of the Boston sports world leads to comments about blocking out external pressures and not worrying about things you can't control. "A lot of people think it's a coachism to say, 'It's one day at a time,' or 'focus in on the next task,'" he says. "But that has to be the way you do it."
Just a few moments later, though, I get a glimpse of something more revealing than any number of "coachisms." I remind Stevens of a column that ran in the Boston Globe last March. It was by Bob Ryan, the veteran sportswriter and coauthor of Larry Bird's memoir, Drive. Ryan noted that nobody expected a winning 2013-14 season – the Celtics are rebuilding, and Stevens was in the "honeymoon" phase. The closing line of Ryan's column read: "Oh, and he has all summer to get out the thank-you notes. But when September comes he had better be ready for a whole new level of scrutiny. The You-Know-What will be over."
"The honeymoon," I say.
Stevens laughs and says, "Yeah."
"That's OK," he says about Ryan's line. And at that moment I catch a familiar look on Stevens' face. He has lit up a little. It's that look I remember from my own basketball youth – that look you get from a certain kind of player when you ask him to go one-on-one. It's a slight smile, not overconfident, not intimidating. It says, "Let's go." It conveys a mindset, a love of the challenge and, you suspect, some inner assurance that he's not going to lose.
And then he's back to business, talking about his respect for Ryan and his acceptance of Boston's rabid desire for winning sports teams. "I understand that's part of it," he says. "I would much rather be in a position where people care about how you're doing as a team, than people being indifferent to it."
As I watched Stevens over the next few weeks – at workouts with a few players and at the Celtics media day in the Waltham gym – and as I spoke with some of the people who know him best, I came to realize that two traits coexist in Stevens that you don't always see together: a rock-solid self-confidence and a genuinely humble attitude. That's not the secret of his meteoric rise in basketball – coaching a top college team at age 30 and hired in the NBA at 36. His immersion in the game from an early age and his deep understanding of basketball strategy account for that. But the combination of confidence and humility are the essence of his leadership style. Can it play in Boston? Will Stevens survive that "whole new level of scrutiny" Ryan predicted?
Ups and downs
When the Celtics hired Stevens in July 2013 to replace popular head coach Doc Rivers (who left to coach the Los Angeles Clippers), Stevens was nationally known as a winner, having guided the Butler Bulldogs into the NCAA championship finals in 2010 and 2011. But you can't have a career in sports without tasting doubt, frustration and failure, too.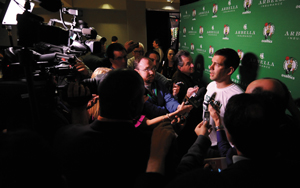 Coach Stevens faces the press in Boston.
Stevens had been a standout guard on his high school team in Zionsville, Ind. His teams had winning seasons, but never went to the regionals. He wasn't recruited by any of the basketball powerhouses. When he decided to attend DePauw in 1995, coaches and players were buzzing. "They were talking about some hotshot player from Zionsville," Matt Broughton '97 recalls, and since Broughton was a guard hoping to get more playing in his junior year with the Tigers, he wondered what that would mean for him.
As it turned out, "he came in and took my spot basically," Broughton says. "I had every reason to be upset with the guy." Yet Broughton quickly realized he'd gained not just a rival, but also a teammate and kindred spirit. "It was always a friendly competition. We both love to win, and we both get after it, but we were great friends from day one," he says.
Stevens lived up to expectations, having excellent years as a freshman and sophomore. But the Tigers went 12-13 in Stevens' junior year, and Coach Bill Fenlon decided he needed to put a younger squad on the floor. Stevens spent more time on the bench in his senior year. His star power had seemed to fade. Broughton had graduated by that time, but he knew his friend was disappointed by the lack of playing time. "He called during the season, frustrated about it," he says.
And then his career as a player was over. Stevens graduated with a degree in economics. Before long he was in the workaday world, taking a job in Indianapolis with Eli Lilly and Company, where he previously had a summer internship. Stevens moved to an apartment across the street from Broughton. "We were in about every basketball league you could think of in town," Broughton says. "He knew every open gym that was going on." Neither Broughton nor Stevens were yet married. "We had nothing to do but work and play ball," he says.
Stevens, though, had left DePauw with more than a degree and a desire to keep playing basketball. A few days before the start of classes in his first year, a friend from Zionsville introduced him to Tracy J. Wilhelmy, a member of the women's soccer team. They became friends, and by the end of their sophomore year they started dating. When Stevens went to work for Lilly, Wilhelmy moved with him to Indianapolis.
Leap of faith
After a couple of years at Lilly, Stevens decided to take a big risk. He missed basketball so much, he took a volunteer assistant coaching position at Butler. Meanwhile, Tracy would go back to her hometown of Cleveland to attend law school at Case Western Reserve University. Before long, Stevens was promoted to a salaried position at Butler. And after two years, Tracy moved back to Indiana, the couple married, and she finished her law degree as a visiting student at Indiana University. She took a job as a labor and employment attorney.
Tracy recalls the uncertainty of that time, when Brad took a leap of faith to go into coaching. "When he started, it wasn't as lucrative a profession as it is now," she says. "There was always the possibility he could go back to the corporate world," as Lilly had assured him he'd be welcome to return. But Stevens thrived under the tutelage of Butler's head coach, Todd Lickliter. Lickliter, a stickler for details, believed it was a coach's job to process large amounts of information and then give players only the key details they needed.
When Lickliter left to coach at Iowa in 2007, Stevens got his big chance. By this time, he had put in so much time studying game tape on the VCR that his direct basketball experience had merged with a new sophistication in his analysis of the game. It was then that friends like Broughton began to realize Stevens was meant to coach – which wasn't so apparent when they played together at DePauw. "The way that I would describe him at that point is, I thought he was a very instinctual basketball player," Broughton says. "You could see he had played tons and tons of basketball."
It's a big jump from having that kind of feel for the game to being able to convey it to others – and then to lead a team. Stevens began thinking about leadership at DePauw when he took Stuart C. Lord's course in servant-leadership. The course opened his mind to a new perspective, yet "there's nothing I would say I was good at when I left college with regard to leadership," he says. When he got to Butler, he noticed that one of the core values of The Butler Way was servanthood. "So now I'm thinking there's really something to this," he says. He began to practice the art of leading by example – on the theory that, as he puts it, "Those guys who really sacrifice, without care of who gets the glory, are easy to follow."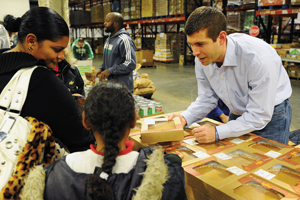 Participation in community service is important to Stevens.
One on one

Two weeks after my initial meeting with Stevens, I'm back at the Celtics facility in Waltham to watch him work out with a few players at the practice gym. Full Celtics practices are still four weeks away, but optional individual workouts are on the calendar. On this Wednesday morning, Stevens is on the floor with a couple of assistant coaches and a small group of players.
The Celtics gym is designed to convey as much of the feel of Boston Garden as possible. It replicates the famous parquet floor, and 17 championship banners hang from the rafters. The difference is there are no huge crowds. Stevens, in a green Celtics T-shirt, green shorts and basketball shoes, is working with Kelly Olynyk, a 7-footer going into his second year. Two chairs are set up, and he has Olynyk coming around them, taking a pass and stepping back to shoot at the three-point line. Then he has Olynyk at the free-throw line, waving the ball around and cutting to the basket.
During the hour, the drills get faster and more complex. Passing, cutting, screening and rebounding, Stevens looks like just another member of the squad. Toward the end, he works with two of his potential centers, Olynyk and another 7-footer, Tyler Zeller. They're making moves in the paint, passing to each other on the cut. Zeller hits Olynyk with an alley-oop, and Olynyk dunks backwards.
"You guys are really good passers," Stevens tells them. Immediately after the comment, Zeller passes to Olynyk cutting to the basket, but leads him too much. The ball bounces out of bounds. Stevens laughs. "I give you too much credit," he jokes. "Never mind, you're not that good."
Freedom to play
The workout session is a pretty good example of how Stevens runs things, according to the players and coaches I speak with later at the Celtics Sept. 29 media day, in which radio, television and print reporters are invited to the practice gym. He brings a relentless attention to the details of each player's game and tells them what they need to work on.
"Brad is very efficient," assistant coach Walter McCarty, a former Celtics player, tells me. "He's really about getting the work done and keeping guys engaged and excited about the work. It's not about being in the gym all day; it's about getting the work done, getting better and having fun while we're doing it."
I ask McCarty, who has seen a lot of coaching styles in his years around the NBA, how a young coach like Stevens earns respect from the players. Stevens' work ethic is a part of it, McCarty says, but so is his willingness to listen. "He doesn't just come out and start giving commands, saying 'This is what we're going to do.' He enjoys feedback from the staff and players. Everyone has an involvement."
Olynyk concurs. "He's a real student of the game," Olynyk says. "If you're a basketball mind, he wants to pick it. He never stops learning. He'll go in every day, breaking down film, breaking down plays, reports, analytics. And he just keeps striving to get better and better every single day."
When Stevens sits down at a table in the corner of the gym to take questions from the media that day, he gets a lot of questions about the news that his star guard, Rajon Rondo, had fallen in his home, breaking his hand, and could miss the opening of the season. Stevens seems unfazed, addressing reporters by name and talking basketball strategy as if they were as deeply versed in the intricacies of the game as he is. He gives a clue to one of his main goals for the coming season: he wants players to have a set of options in mind but also to find that ability to play more instinctually. "This is a game that's played fast," he said. "You can't have everything scripted."
Later, I ask assistant coach Micah Shrewsbury about that challenge. Shrewsbury coached with Stevens at Butler and left a coaching job at Purdue when Stevens asked him to join the Celtics. "Brad isn't one to harp on different things that some coaches go crazy about," Shrewsbury says. "He's not a yeller and screamer. He can let things go. I think players like that. They don't like to look over their shoulder and wonder what's going on with the coach. You've got to be able to play with a free, clear mind. He gives them that freedom to just play and be themselves."
A perfect storm
There is one other nagging question in my mind as I watch Stevens move from interview to interview with television and radio reporters. How did the Celtics organization come to put so much faith in this young coach who had no NBA experience, either as a player or assistant coach?
The man with the answer is Danny Ainge, a former Celtics player who is now the team's president of basketball operations. Ainge himself tried coaching after his playing days, guiding the Phoenix Suns for three seasons, and saw firsthand how hard it is. Ainge knew Stevens would have a steep learning curve in his first season as coach, and he knew the Celtics' record would not be positive. Yet at the end of last season, Ainge told the Boston media, "I have no worries about Brad. Brad is maybe the only thing in our whole organization that I'm not concerned about."
So when I spot Ainge at media day, I ask him how he came to feel such confidence in Stevens. "When I go out and watch players, I often watch coaches, too," Ainge begins. "Watching him coach, watching his interactions with players, watching his team execute, watching his interactions with officials, watching his post-game press conferences. … I had done this well in advance of last summer, and I've just always been impressed."
When Doc Rivers decided to move on to L.A., Ainge knew he had to act. He called Stevens, and they discussed the job in a series of phone calls over the next week. Finally, Ainge and Celtics owners flew to Indiana to offer a contract. The press reported that Stevens signed a six-year deal worth $22 million.
Stevens says he felt that only "a perfect storm" would have made him ultimately choose to leave Butler. "Other opportunities had presented themselves in the past, but Butler was a hard place for us to leave, and Indiana was a hard place for us to leave," he says. The perfect storm, though, had blown in. Brad and Tracy had recently sold their house in Carmel and moved in with Brad's mother. They were actively looking for a new neighborhood close to Butler – by now they had two small children.
"We had been watching the NBA and talking about the potential of a move to the NBA for a little bit of time," Tracy says. "It was something we had been thinking about." When the Celtics job came up, they realized it would be easier for the children to adjust to a new city sooner rather than later. Their son would be going into second grade, and their daughter would be five and not yet in school.
"They made a fantastic offer," says Tracy, whose experience as a lawyer came into play as she reviewed the contract, as she did for Brad's previous agreements at Butler. The six-year commitment made it attractive, she says, as did one other clause they negotiated. Some NBA organizations do not allow family members to travel with the team. The Celtics agreed to allow Tracy and the children on the team plane for occasional family trips during the long NBA season. "That was a huge selling point for us," Tracy says.
Authenticity
In my initial conversation with Stevens in that drab conference room, I told him I was a fan of the Chicago Bulls when they had their championship run in the 1990s. I was especially fascinated with the way Bulls coach Phil Jackson brought a range of ideas to his locker room, and even went so far as to supply books on philosophy and spirituality to his players.
Stevens doesn't take that approach with his players. "One of the biggest keys to leadership is authenticity," he says. "You have to be you. You're hired to do the job, and so however you best operate is the way that you've got to go about your day-to-day business." He speaks of core principles for his players – being as team-oriented as possible and having "an accountable locker room," where things are openly discussed.
Stevens himself looks to books on leadership and psychology and says Carol Dweck's Mindset is his current favorite. Dweck writes about the misguided idea that talent level or intelligence can't be improved beyond its natural level. People with such a "fixed mindset" take failure too hard – they are quick to assume it means they aren't good enough. The book, Stevens says, is "about the process not of pursuing a trophy, but the process of growth. And not being afraid of failure. When failure hits, you get even more curious about how to solve the puzzle."
That's the moment Stevens is in now. As he moves into his second season, and then his third, he will increasingly be judged by two simple numbers: wins against losses. No amount of hard work and coaching savvy on his part can guarantee an 18th championship banner for the Celtics, when so much in the NBA depends on the right combination of superstar talent and more than a few good breaks.
If the Celtics struggle through this season and next, and that "whole new level of scrutiny" predicted by sportswriter Ryan comes along, what then? Brad "absolutely hates losing, but he doesn't attach his self worth to it," Tracy says. Brad says it's a matter of perspective. "This is what I do," he says. "It's not necessarily who you are. It's part of who you are, but it's not the only thing you're about."
At the same time, nothing about him gives you the feeling he expects to fail.
written by Dave Denison for DePauw Magazine
Back