Making Reparation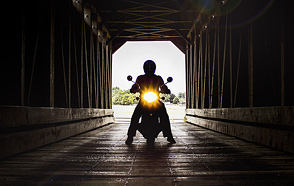 December 18, 2014
Written by Sarah McAdams for DePauw Magazine, Fall 2014
Kyle P. Ham '94 was a 21-year-old student at DePauw when he saw The Activist in Moore Theatre, a play written and directed by Steven R. Timm, professor of communication and theatre. Nearly 20 years later, he and Timm are awaiting the 2015 release of Reparation, a feature-length film and adaptation of The Activist, which Ham directed and co-wrote with Timm.
Inspired by a number of cases that Timm worked on as a security police investigator in the military, he wrote The Activist in 1992 and produced it a year later. Ham explains that as a student he was familiar with Timm's work, but when he saw The Activist, it was different and very ambitious. "There was so much going on – memories, imaginary characters, mystery and psychological tension. It just felt like a movie to me."
"Kyle called me a year after he graduated," Timm says. "He was living in Los Angeles and working in Hollywood, and he wondered if I wanted to adapt The Activist into a screenplay." That's when their work together began. They sent the screenplay to a number of directors and to the studio system a couple of times. "We kept rewriting and rewriting, and then just decided last summer that we would do it ourselves," Timm says.
Ham adds, "When the idea came to dust this screenplay off our shelves and give it a go, one of the things I looked forward to most was finally getting to make it exactly how we wanted it done. Between Putnam County, Greencastle and DePauw,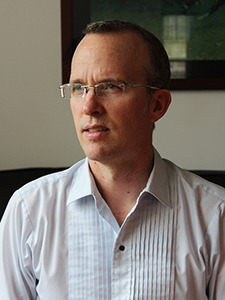 we knew we had everything we needed to tell this story."
Returning to and living in Greencastle for three months was a special experience for Ham. "I love Greencastle, and I enjoyed my years at DePauw so much," he says. "I hope the community – DePauw and Putnam County ­– are proud of this film when it's finished."
Because he was also producing the film, Ham says that it was tougher physically, emotionally and mentally than previous projects.
"I'm looking forward to the screening in Greencastle this spring and to watching the film unfold through the eyes of the community members who made it a reality," Ham says. "That will be a really good night. We certainly could not have pulled this off without them."
Back