Comprehensive Exhibition of Work by Lucy+Jorge Orta Comes to Peeler Art Center Feb. 6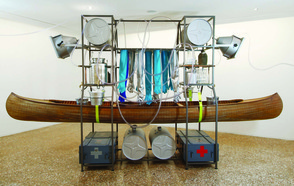 January 8, 2015
DePauw University's Richard E. Peeler Art Center is proud to present the traveling exhibition, Lucy+Jorge Orta: Food-Water-Life. Opening February 6 and continuing through May 10, this is the first comprehensive exhibition of work by Lucy+Jorge Orta available to American museums, organized by the Tufts University Art Gallery, touring nationally through 2015. The exhibition was curated by Judith Hoos Fox and Ginger Gregg Duggan (c2 | curatorsquared) and organized by the Tufts University Art Gallery. (at right: OrtaWater-Fluvial Intervention Unit, 2005, Canadian maple wood canoe, steel structure, glass shelves, copper and plastic tubes, gloves, 4 buckets, 4 crates, 4 water drums, 2 water tanks, 2 light projectors, 4 flasks, copper tubes and taps, audio MP3, speakers, 24 OrtaWater bottles, 102 ½ x 200 ¾ x 47 ¼ in.; courtesy of the artists and Galleria Continua, San Gimignano / Beijing / le Moulin. Photography: Gino Gabrieli)
The sculptures, drawings, installations and video by the Ortas, aFrench wife-husband duo, collectively explore major concerns that define the 21st century: biodiversity, environmental conditions, climate change and exchange among peoples. At the same time, this work embodies the philosophy that steers their pioneering art practice, 'the ethics of aesthetics.' As heirs to the practice of social sculpture, formulated by Joseph Beuys in the 1960s, the Ortas' works are relics of their own function -- beguiling assemblages that are the platform for the preparation of food, mechanisms that actually purify water, and elements created for a 2007 expedition to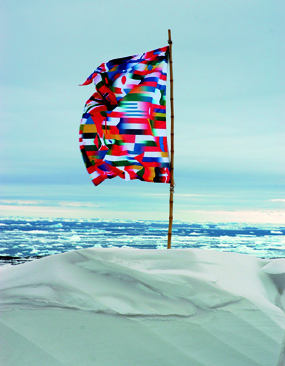 Antarctica that are part of an effort to amend the 1948 Universal Declaration of Human Rights. The works in this exhibition are metaphors-in-action, constructions that perform the tasks of which they are emblematic.
These humorous, jerrybuilt contraptions are obviously not the most efficient means to purify, prepare and transport food and water, or to launch a world-wide humanitarian effort, but in their ability to actually function, albeit, awkwardly and haltingly, they gain power as works of art created to move us to awareness and action. The artists have created a unique visual language through which they tackle the major global issues affecting our lives and the precarious position of this planet. As the Orta's artwork communicates widely to audiences beyond the field of contemporary art, it demonstrates the importance of art as a creative agent for awareness and change. (at left: Antarctic Village—No Borders, Métisse Flag, 2007, Installation on the Antarctic Peninsula, inkjet on polymide, eyelets; 39 ½ x 59 in, edition of 7. Photography: Thierry Bal.)
Working in partnership since 2005, Lucy+Jorge Orta create, produce, and assemble their artworks and large installations together with a team of artists, designers, architects, and craftspeople. They stage on-location workshops, ephemeral interventions, residencies, and master classes, which explore the crucial themes of the contemporary world: the community, autonomy, dwelling, migration, sustainable development, and recycling. Their work has been the focus of important survey exhibitions in major museums, including: the Barbican Art Gallery, London; Modern Art Museum, Paris; Museum of Contemporary Art, Sydney; Museum Boijmans Van Beuningen, Rotterdam; Hangar Bicocca, Milan; as well as the Venice,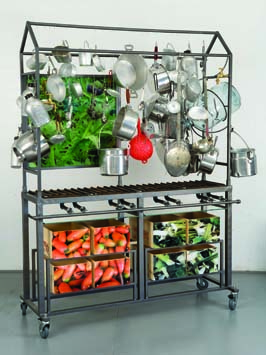 Havana, and Johannesburg Biennales.
The exhibition is provided with support from Arts Illiana; the Indiana Arts Commission, a state agency; and the National Endowment for the Arts, a federal agency. Additional funding was provided by: the department of conflict studies, The Douglas I. and Ann U. Smith Endowed Fund for Ethics, and DePauw's Public Occasions Committee. (at right: Mexican Kitchen, 1997-2008, recycled Mexican gas cooker, steel structure, mirrors, 8 recycled fruit crates, 8 laminated Lambda photographs, various utensils, taps, 4 wheels; 78 3⁄4 x 71 x 23 1⁄2 in. Photography: Bertrand Huet.)
The galleries at the Richard E. Peeler Art Center are open Monday-Friday from 10 a.m. to 4 p.m.; Saturday 11 a.m. - 5 p.m.; and Sunday 1 - 5 p.m., and are closed during University breaks and holidays. For more information, click here or contact Craig Hadley, director and curator of exhibitions and University collections, at (765) 658-6556.
Back