Washington Post Notes Ken Bode's Move from NBC News to DePauw
March 23, 1989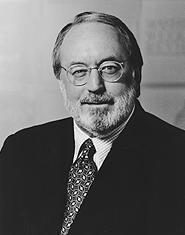 March 23, 1989 - Today's Washington Post carries word of "the announcement yesterday by NBC News Capitol Hill correspondent Ken Bode that he will be leaving what he calls 'the best job in television' when his contract is up in June, to become director of DePauw University's Center for Contemporary Media."
The TV column by John Carmody adds, "He will also become an adjunct senior fellow of the Indianapolis-based Hudson Institute, where, among other duties, he will serve as host/moderator and executive producer of the Institute's American Survival series, a quarterly TV program that focuses on America's survival as a world leader."
Bode tells the Post, "I had a great 10 years. Now I hope to have dozens of my colleagues come out to my university to help the students."
Source: Washington Post
Back