Doug Driemeier '89 is Named a Rhodes Scholar
December 14, 1988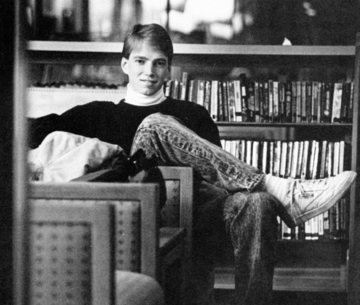 December 14, 1988, Greencastle, Ind. - Doug Driemeier, a DePauw University senior from Florissant, Missouri, has been named one of this year's 32 American Rhodes Scholars.
The scholarship, one of the most prestigious of all post-graduate awards, is for two years of study at Oxford University in England. Students are selected for the Rhodes based on their demonstrated academic excellence, integrity, respect for others, ability to lead, and fondness for sports.
"There was a great desire by the Rhodes committee for recipients to be the kind of persons who will want and be able to make changes in the world and make it a better place," says Driemeier, who is a political science major and a Spanish minor. "I'm interested in challenging people to think about ideas they perhaps haven't thought about, or do things they haven't done before."
His list of academic and extracurricular accomplishments include being an Honor Scholar and holding a Distinguished Rector Scholarship, being honored as the outstanding junior student in the political science department, and serving as a Chaplain's Council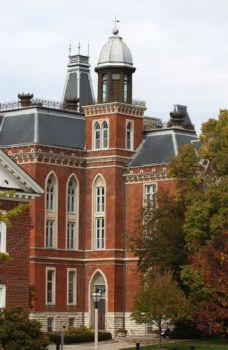 representative and on the Ambassador's Club minority recruitment committee. He spent a semester studying in Barcelona, Spain, and was part of a Winter Term in Mission medical team in Peru. He also sings in the University Festival Choir.
O. Ralph Raymond is an associate professor of political science and was himself awarded an Rhodes Scholarship. "In the past two decades, I would rank Doug in probably the top 10 students at DePauw," Dr. Raymond states. "He has a good analytical mind and a sense of how things fit. He brings a mature, moral sense to every situation."
Driemeier's father, Doug, is a 1960 graduate of DePauw, and his aunt (Joan Driemeier Haskin '64) and two sisters (Doni Driemeier '86 and current freshman Debra Driemeier) studied here.
"I had always expected I would go to an East Coast school, and I was accepted at Yale and Dartmouth," Doug Driemeier notes. "But when I visited those schools, I didn't get the feeling of friendliness that I did at DePauw, and there was not as much interaction between professors and students."
At DePauw, Driemeier has collaborated with his faculty adviser, Robert Calvert, professor of political science, on a Dana Foundation research assistantship. He also worked closely with Sunil Sahu, instructor of political science, in the Honor Scholar program, and says his thesis -- "Relationship Between Socialism and Nationalism in the Third World" -- was influenced by him.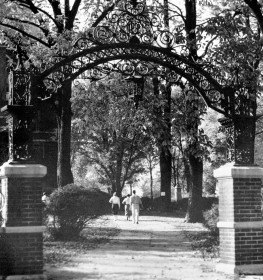 "Working with Dr. Sahu has been very helpful because his specialty is the Third World. I'll have a leg up for Oxford, because by the time I graduate from DePauw I will have already written and defended a 70-page thesis. The Honor Scholar program is about as close to graduate study as you can get at the undergraduate level," the senior says.
Driemeier is the first person to receive the Rhodes Scholarship while a student at DePauw, but is not the first person from the University to win the honor. John McNaughton, a 1942 graduate of DePauw, was named a Rhodes Scholar as a student at Harvard Law School. Carlton Long, a member of DePauw's Class of 1983, transferred and was selected a Rhodes Scholar while at Columbia University.
Back