Scholarship Gives Sophomore the Opportunity to Meet Tip O'Neill
February 13, 1989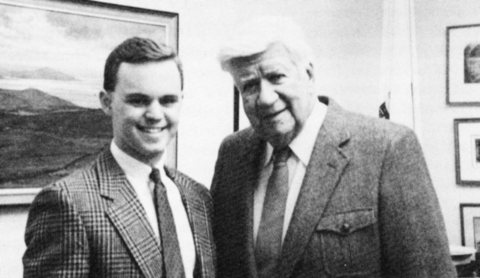 February 13, 1989, Washington, D.C. - DePauw University sophomore Chris McGrann, recipient of the first annual John W. Burkhart Scholarship, met and talked today with the former speaker of the U.S. House of Representatives, Thomas "Tip" O'Neill.
Awarded by DePauw's Center for Management and Entrepreneurship, the scholarship provides the winner with an all-expense-paid trip to meet with the leader of his or her choice, as well as a $500 cash award. The program was established for members of Phi Kappa Psi fraternity in honor of Burkhart, a 1928 graduate of DePauw and a loyal Phi Psi. The award was established by Mark Vittert '69, also a Phi Psi, who co-founded the Indianapolis Business Journal with Burkhart in 1980.
McGrann met O'Neill in the former speaker's Washington law office. He describes O'Neill's demeanor as casual and laid back, and says the veteran Democrat addressed him as "young feller."
The sophomore asked O'Neill how he got started in politics, and was told as a 17-year-old, O'Neill ran for a seat on Boston's City Council, "the only political race I ran and lost," O'Neill told him. They also discussed the future of the Democratic party and the new administration of President George H.W. Bush.
Back