Tuition to Top $10,000 for the First Time Next Year
April 16, 1989
April 16, 1989 - DePauw University has set tuition for the 1989-90 academic year at $10,550, the first time the total has hit the five-digit mark. Even with the increase, total costs for a year at DePauw -- $14,410 including tuition and room and board -- rank eighth among the 12 institutions in the Great Lakes Colleges Association, of which DePauw is a member.
"We have added faculty in an effort to maintain our longstanding commitment to small classes and individualized attention," noted President Robert G. Bottoms in a letter to students and their families. "This faculty expansion has also given us the opportunity to offer a greater breadth to the curriculum -- particularly in areas that address international issues -- so that our students may be prepared for leadership in an increasingly global world. Continued improvement for science equipment, the library, and the development of a new curriculum for first-year students are all adding to the cost of a DePauw education."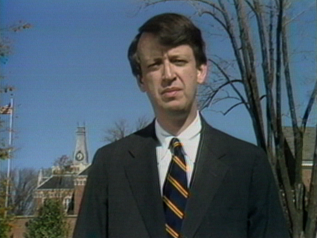 The University's 18th president stresses, "Even as we raise tuition, we remain committed to providing financial aid for gifted and needy students. Further, tuition alone cannot support our commitment to enhancing DePauw's already distinguished academic program."
Tuition represents about 80% of the University's annual educational and general revenues, with gifts and grants, together with earnings from the endowment, making up most of the remainder.
Back