DePauw Opera, The Coronation of Poppea, Opens Thursday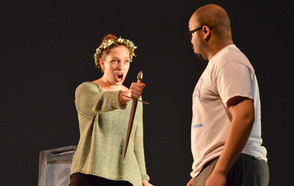 February 2, 2015
Written in 1643 for the Venetian carnival season, Claudio Monteverdi's last work, The Coronation of Poppea, is a cautionary tale about the consequences of ambition. This week, the DePauw University School of Music will present Raymond Leppard's sumptuous edition of this early Italian opera in four performances, February 5-8, in Moore Theatre at the Green Center for the Performing Arts.
Like last year's DePauw update of Mozart's The Secret Gardener, guest director and virtual scenic designer Joachim Schamberger has turned the clock forward to place Monteverdi's 17th-century work in the present and utilized dramatic projections to create the set. This year's production takes place, however, not in Greencastle but in Rome -- during the first century A.D.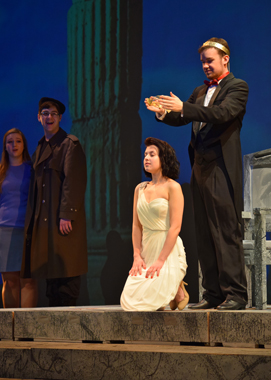 "One especially interesting aspect of this production," says DePauw voice professor Kerry Jennings, "is the juxtaposition of Joachim's ancient Roman set and media design with the contemporary costume designs by Caroline Good. Many of the costumes, particularly the goddesses, give a nod to the original time period, but the pairing of present-day and ancient times underscores the fact that the conflicts and issues in this nearly 375 year old opera -- adultery, ruthlessness, greed, etc. -- still continue to bring about destruction.
Another exciting aspect of staging The Conoration of Poppea, according to Jennings, is that it gives vocal students the opportunity to have a very real experience singing with continuo, the improvised style of accompaniment typical of Baroque music. "For some of them it has been their first time singing with harpsichord, and certainly none of them have sung with continuo to the extent that is called for in this opera. With the help of our coaches and Professor Orcenith Smith, they have all met the challenges and are experiencing the rewards that this wonderfully expressive work affords them and our audiences."
Music director Smith will conduct the DePauw Opera Orchestra in this fully staged, double-cast production, which will be sung in English. The role of the beautiful courtesan Poppea will be performed on alternate nights by sopranos Hannah Gauthier (Thurs./Sat.) and Julie Strauser (Fri./Sun.), and Emperor Nero will be sung by tenors Joseph Leppek (Thurs./Sat.) and Lance Orta (Fri./Sun.). Mezzo-soprano Shannon Barry (Thurs./Sat.) and soprano Addy Sterrett (Fri./Sun.) will sing the part of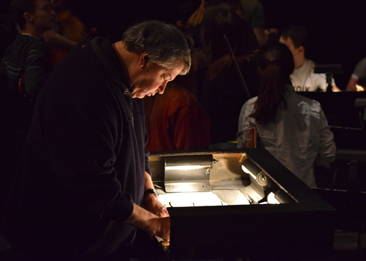 the Empress Ottavia, and baritones Logan Dell'Acqua (Thurs./Sat.) and Yazid Pierce-Gray (Fri./Sun.) will share the role of the noble Ottone.
General admission tickets for the opera are $7 and are available online at www.depauw.edu/music/tickets. Tickets for seniors, children and all students are free. Performances on Thursday through Saturday night begin at 7:30 p.m. with the Sunday matinee starting at 2 p.m.
For additional information or assistance, stop by the Green Center box office, 605 S. College Avenue, or call (765) 658-4827.
Back