Management and Informatics Programs Extend DePauw Experience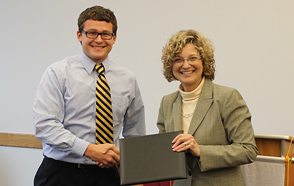 February 9, 2015
Only an hour drive separates DePauw and Indiana University, but thanks to a pair of new programs, DePauw students may feel like the two schools are closer than ever.
January 2015 saw the launch of the DePauw Management Accelerator Program (DMAP), a partnership between DePauw and Indiana University's Kelley School of Business, one of the nation's most respected business schools. During an intensive, three-week course taught by Kelley School faculty, DePauw students performed case studies, met with management teams from Indiana businesses, and worked with graduate student mentors on group presentations for the program's business sponsors.
Created as part of a $1 million Lilly Endowment Grant to develop opportunities for Indiana's college graduates, DMAP is open to students throughout DePauw – and its first class got them. Lisa C. Salazar, a junior in the School of Music, hopes to pursue a career in human resources. She says the program helped her envision how to get there.
"I have a better understanding of specialty areas in business, a better sense of how to properly market myself for internships and jobs, and I have a stronger sense of my own career goals," Salazar says.
For Ujjwal Nair, a sophomore computer science major who plans to study machine learning in graduate school, the program was a way to prepare for his next next step.
"The program with Kelley has added to my repertoire," he says. "It taught me to think in ways that are relevant to any managerial position I would take in any industry."
Nair and Salazar were among 27 students who participated in the inaugural Winter Term course, though program coordinators expect enrollment to grow to as many as 50 students in coming years.
"In a way, being part of the first group gives me the feeling that I'm paving the way for future DePauw students who will take part in the program," Nair says.
Liberal Arts in the Marketplace
The new management program is about filling a demand – not a gap – says Rajesh "Raj" Bellani, dean of experiential learning and career planning at DePauw's Hubbard Center for Student Engagement.
"We know liberal arts graduates are wanted because that's what employers are telling us," Bellani says. "We know they'll lead successful careers because that's what our alumni have showed us. DMAP builds on our strengths. It gives our students a running start."
In a September 2014 online opinion piece for Forbes, "Employees Who Stand Out," former chairman and CEO of Saks Fifth Avenue Steve Sadove wrote that during his 38 years in the private sector, he found that "as employees progress in a career, it is these broad liberal arts skills – the ability to think critically and communicate clearly – that differentiate their performance."
Sadove isn't alone in his opinion. Last year, the National Association of Colleges and Employers (NACE) conducted a survey of its member employers, including industry leaders such as Apple, 21st Century Fox and Google. Collectively, employers reported that problem solving and ability to communicate – skills commonly associated with a liberal arts education – are their most-valued qualities in new hires.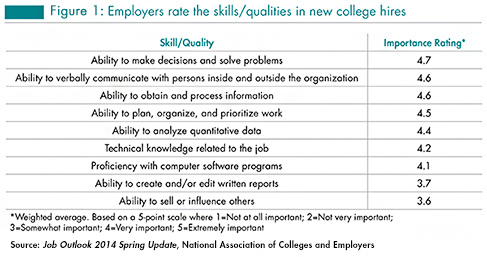 With the creation of DMAP, at least one major business school is taking advantage of a highly desired talent pool in their own backyard.
"We were excited to work with students from an outstanding liberal arts school such as DePauw," says DMAP Director John Talbott, a senior lecturer and associate director of the Center for Education and Research in Retailing in the Kelley School. "These students have a natural curiosity that lends itself to solving complex, real-world problems that business leaders face every day."
"Some of these students may want to begin their careers immediately after they leave DePauw," Talbott says. "Others may want to continue their development in the kinds of programs the Kelley School offers. Some may do both. No matter which path they choose, we hope the experience we offer helps them, and also encourages them to keep their talents in the state of Indiana."
A few students didn't have to wait long to benefit. On the final day of the program, the group was invited to a Kelley School career fair where they had a chance to speak with recruiters from more than 100 Fortune 500 companies. Grant A. Walters, a junior communication major, was one of multiple DMAP members who caught the attention of online giant Amazon.
"At the end of our talk, the recruiter asked me to come back the next day and interview," Walters says.
A New Bridge
January was also the start of DePauw's Bridge to Computing program, a joint effort with Indiana University's School of Informatics and Computing (SoIC). Sharing DMAP's liberal arts underpinnings, the intensive, three-week course is open to all DePauw students regardless of major, and meant to teach them how to apply their education to graduate study or a career in informatics. The program goes one step further, however, by counting as course credit toward SoIC graduate degrees.
Taught by SoIC associate professor Katie Siek, the course tasked students with creating wearable devices that tracked factors such as sunlight exposure and time spent sitting. According to a news story posted by SoIC,
Students had to design surveys, create websites and compile research to best guide their design of wearable devices. The result was prototypes – which were built through a combination of computer design, 3D printing, and electronics – that could be both practical and helpful in the future. But more important than the actual devices was the experience.

"I wanted to do a real-world situation," Siek says. "I also wanted to have them think about how they were going to schedule their time. They got five big assignments, and those were spread out over the three weeks. They had to pick their own schedules. I also introduced concepts to them, but I made them drill down and find resources to learn more. It was very project-based, and we tried to put real-world stresses on them. They had to find resources without us giving it to them."

The students actually enjoyed the compressed timeframe the course placed on them. [DePauw] sophomore Clay P. Langley, who worked on a device that monitored how long a person had been sitting, says the class gave him a feel for what he can expect in a post-college world.

"When I talked to my parents or friends who have graduated, they said, 'That is definitely how it will be,'" Langley says. "I think that's a good experience to have. You better be ready to work. Don't put it off. Sometimes it's easy to do that in college, but with projects like these, that's not an option."
David B. Becker, a 1975 DePauw graduate and an adviser to both SoIC and the McDermond Center for Management & Entrepreneurship, was one of the main drivers behind the informatics collaboration. A political science major at DePauw, Becker's career has shown how flexible a liberal arts education can be. He is a veteran of the tech startup world, having founded and served as CEO for ventures such as First Internet Bank and DyKnow, a spin-off of tablet computing research done by DePauw Professor of Computer Science Dave Berque.
Based on conversations Becker had with Siek and others at the program's conclusion, Bridge to Informatics is shaping up to be his latest startup success.
"What made me the proudest were the comments from the IU faculty about our DePauw students," Becker says. "They were blown away."
Back