March 31 Event Featuring Former VP Dan Quayle '69 -- the 100th Ubben Lecture -- Moved to Kresge Auditorium
February 20, 2015
Dan Quayle's March 31 Ubben Lecture at DePauw University is being moved to Kresge Auditorium, located within the Green Center for the Performing Arts (605 S. College Avenue).
"It was our initial desire to stage this event -- which is a homecoming of sorts for the 44th Vice President of the United States -- in Meharry Hall, which holds 140 years of history and is a gorgeous setting," notes Ken Owen '82, executive director of media relations at DePauw and coordinator of the Timothy and Sharon Ubben Lecture Series. "Since we first announced this event earlier this month, it has become apparent that Kresge Auditorium, which can seat an additional 900 people, is a venue that is better suited to accommodate the audience we expect for Mr. Quayle."
The program will begin at 7:30 p.m. and will feature Quayle, a 1969 graduate of DePauw, in a conversation moderated by Jeffrey M. McCall '76, professor of communication. The audience will also be invited to ask questions during the event.
Like all Ubben Lectures, the event is presented free of admission charge and is open to everyone. Learn more here.
The appearance by Dan Quayle will mark the 100th Ubben Lecture that has been presented since the series was created in 1986. Tim and Sharon Ubben, both 1958 graduates of DePauw, fully endowed the lectureship with a stated goal of "bringing the world to Greencastle." The previous 99 programs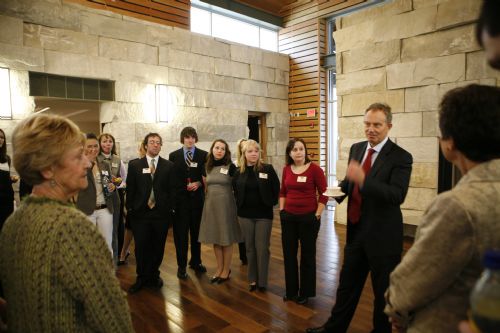 have included talks Margaret Thatcher, Bill Clinton, Elie Wiesel, Mikhail Gorbachev, Benazir Bhutto, Tony Blair, Shimon Peres and Spike Lee. (photo: Tony Blair talks with DePauw students and alumni at the Prindle Institute for Ethics; March 3, 2008)
The 2014-15 academic year has already included Ubben Lectures by Orange Is the New Black author Piper Kerman, television's Jimmy Kimmel and New York Times columnist David Brooks. Indianapolis Colts quarterback Andrew Luck will speak on April 24.
To view a complete roster of Ubben Lecturers -- which includes links to video clips and news stories -- click here. Video montages of many events are available on YouTube.
Back