Newspaper Updates Hoover Hall Construction
February 18, 2015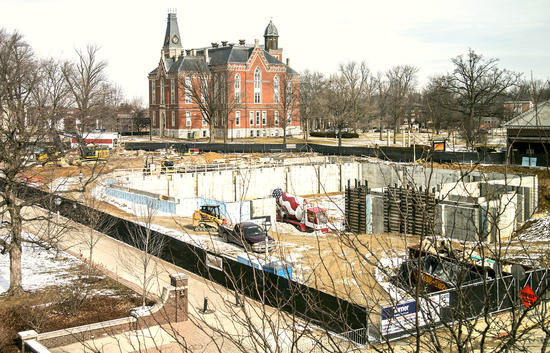 "Construction continues at the site of Hoover Hall, the new 48,600-square-foot DePauw University dining hall being built in the shadow of East College," notes today's Banner-Graphic, which includes the photo seen here at right.
"Hoover Hall, which will sit just north of Hanna Street along Burkhart Walk, will replace the current 'Hub,' a food-court-style dining hall in the Union Building, and will serve as the primary dining space for first-year students and upper-class students living in university housing. The new dining hall, which has a target completion date of fall 2016, will seat more than 600 students in the main dining room, with dozens more able to dine and come together in an array of smaller dining rooms."
The text notes that "Hoover Hall is being made possible by a collection of gifts from DePauw alumni. R. David and Suzanne A. Hoover (both 1967 DePauw graduates) provided the lead gift to support the construction effort, and the building will be named in their honor."
Access the item at the newspaper's website.
Groundbreaking for the project took place in May 2014. Read more here.
To learn more about Hoover Hall and to follow ongoing construction projects on campus, click here or follow the campus project updates.
Back