DePauw to Host the Inaugural Global Musician Workshop, Featuring Yo-Yo Ma & Silk Road Ensemble
March 6, 2015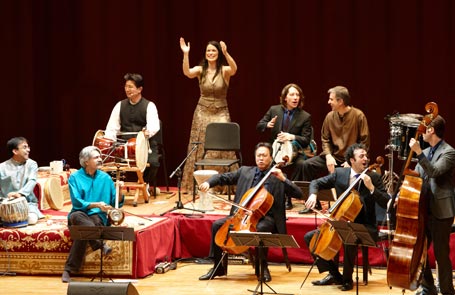 The DePauw University School of Music will serve as the host site for the inaugural Global Musician Workshop (GMW) that will take place June 8-12, 2015, on the DePauw campus at the Judson and Joyce Green Center for the Performing Arts.
The workshop will be taught by members of Yo-Yo Ma's renowned Silk Road Ensemble, an all-star faculty representing a unique range of musical backgrounds, including Ma (cello), Sarah Jarosz (American folk), Sandeep Das (Indian tabla), Kaoru Watanabe (Japanese and Western flutes, taiko drum), Hadi Eldebek (Arabic oud), Shane Shanahan (world percussion) and Mike Block (multi-style cello).
GMW is directed by Silk Road cellist Mike Block with a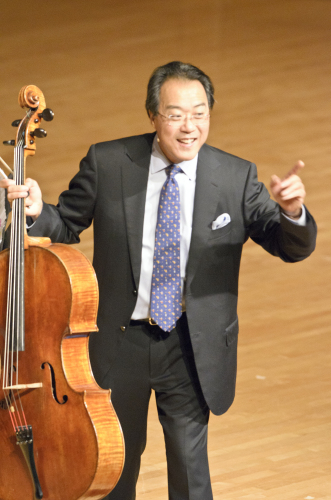 mission to foster a community of globally minded musicians engaged in learning from one another's traditions and incorporating them into their own artistic voices.
In addition to Yo-Yo Ma's participation in select activities, GMW artists/faculty will teach various styles of music from across the world. Participants will play with the faculty in small bands with each faculty-led ensemble focusing on a different style, and learning new repertoire, preparing arrangements and exploring stylistic playing and improvising in preparation for a public performance. Information on workshop performances will be detailed at a later date. (at left: Yo-Yo Ma at DePauw University; September 29, 2011)
"Ma and Block chose DePauw, home of the 21st Century Music Initiative, because of the network that already exists in Greencastle between the teaching institution there and community based performance scene," reports Boston NPR affiliate WBUR.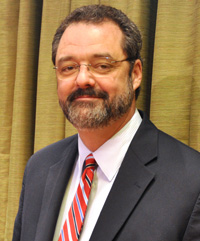 Of DePauw, Ma tells the station, "They've had full faculty acceptance of a multi-disciplinary curriculum already, but what's remarkable is that they also work closely with the community."
"DePauw could not be more proud that Yo-Yo Ma and the Silk Road Ensemble have selected our campus as the site of its first Global Musician Workshop," says Mark McCoy, dean of the School of Music (seen at right). "It's testament to the efforts our faculty and students have made to innovate the way music is taught and shared. These world-renowned musicians choosing Greencastle as the place to teach others will enrich our campus and underscores DePauw's visible role in reshaping modern music education."
Participation in the five-day workshop is open to musicians 18 years-of-age and older including university and conservatory students, as well as professional performers and teachers, from any musical background.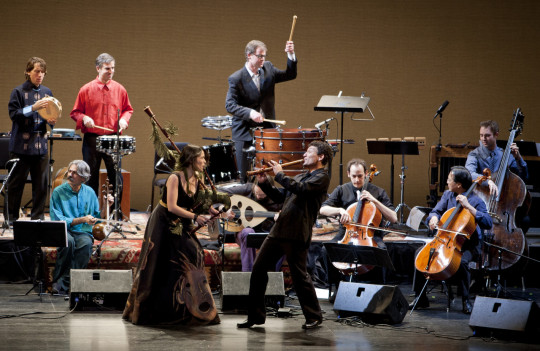 Rolling admissions will begin this spring, with the first deadline on March 9, 2015; applications will be accepted until all spots are filled, through May 15, 2015.
Learn more here.
Yo-Yo Ma, the winner of 15 Grammy Awards and the recipient of the National Medal of Arts and the Presidential Medal of Freedom, visited DePauw in September 2011 for a lecture and performance, summarized here.
"Coming to the Green Center is amazing -- it's such a beautiful space," he told an audience in DePauw's Kresge Auditorium.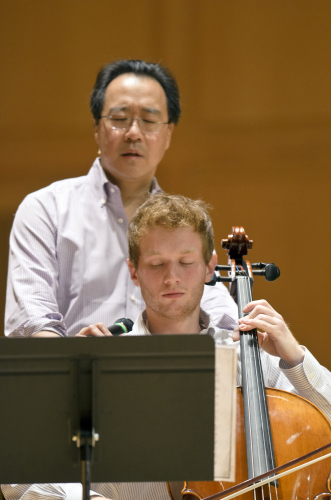 "Because I spent a lot of time here today, I can report that there are very few places, music schools, that have these kinds of facilities to work in. And I do think space does make a difference in your mood and in your work. This leads me to believe -- and I think I've met enough DePauw students to know -- that they really care about this school." (at right: Ma works with a DePauw student musician)
Founded in 1884, the DePauw University School of Music is the nation's sixth-oldest private institutions for post-secondary music instruction and the longest-running in Indiana. Learn more here.
Back