DVD of May's 176th Commencement, Loaded with Extras, Available for Pre-Order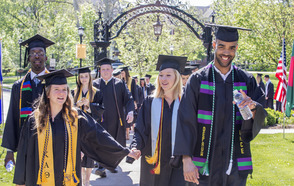 March 18, 2015
Relive memories of a special day in the lives of DePauw University's Class of 2015 with a DVD of the May 17 commencement ceremony. The limited edition disc, which will include footage of each graduate receiving their DePauw diploma as well as a range of bonus materials, is now available for pre-order. The DVDs are $19.95 for the first disc; additional DVDs sent to the same address will be $8 each (shipping to domestic addresses is included; 7% sales tax will be added to Indiana orders).
An online order form is available here.
The 176th annual commencement will take place on Sunday,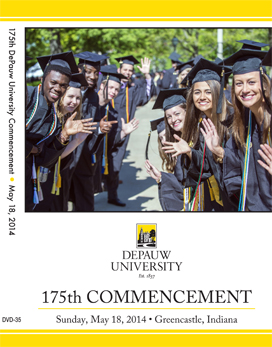 May 17, at 10:30 a.m. in Holton Memorial Quadrangle.
The DVD will contain multi-camera coverage of the ceremony, including the procession of graduating seniors, speeches and -- as noted -- video of each graduate receiving his or her diploma. Those looking for a particular part of the program can immediately access what they seek via the DVD's menu. For example, to see a graduate whose last name is Carter, you click on the letter 'C' in the menu and are immediately taken to the first person whose last name begins with the letter 'C' receiving his or her diploma. Users can also jump to specific speeches, or watch the program from beginning to end. (at left: front cover of 2014 commencement DVD)
The DVDs are professionally replicated, not duplicated, and are housed in a decorative jacket.
Besides the main program, the disc will contain bonus features that amount to a four year recap of some of the memorable experiences the graduates have had while at DePauw. There will be campus highlights from 2011-2015 (ranging from clips of the opening convocation at which the Class of 2015 was welcomed to DePauw and Ubben Lecturers such as Bill Clinton, Jane Goodall, Andrew Luck, Leyhmah Gbowee, Martin Luther King III and Jimmy Kimmel); a photo gallery of commencement day activities; "Monon Memories" of the last four football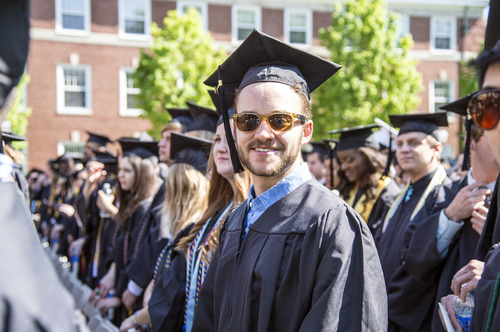 battles with Wabash College for the prized Monon Bell; and vintage film from the DePauw Archives.
This will mark the 14th commencement DVD that DePauw has produced, and the 36th DVD overall. Past projects include 18 Monon Bell Classics (1977, 1993, 1994 and 2000-14), some of which remain available click here.
Back