Former Tiger Assistant Carson Harris Named Head Men's Hoops Coach at Marian U
March 25, 2015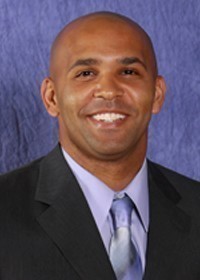 Carson Harris, who served as an assistant men's basketball coach at DePauw University in 2006-09, was today was named the eighth head men's basketball coach in Marian University history.
"His background and abilities will provide a strong foundation for our program and his commitment to excellence is exactly what we were looking for in this search," noted Marian athletic director Steve Downing.
A graduate of Manchester College, Harris was an assistant coach at his alma mater for two years following his graduation in 2001. He then coached three years at Earlham College and three years at DePauw before going to Division I University of Evansville, where he was director of basketball operations and an assistant coach.
Read more here, and visit the official online page of the DePauw men's basketball program.
Back