Congress Seems Bent On "Lurching from Crisis to Crisis," Opines Veteran Statesman Lee Hamilton '52
March 31, 2015
"Great democracies do not veer from one doomsday moment to the next, nor do they fund government on a week-to-week basis," writes former congressman Lee Hamilton in a newspaper column. "Yet that is precisely the habit Congress has developed."
Hamilton, a 1952 graduate of DePauw University, notes, "After Congress came a hair's breadth from shutting down the Department of Homeland Security a few weeks ago, members of the leadership tried to reassure the American people. 'We're certainly not going to shut down the government or default on the national debt,' Senate Majority Leader Mitch McConnell declared on CBS's Face the Nation. Congress, he said, would not lurch from crisis to crisis. I wish I could be so confident. Because if you look at the year ahead, the congressional calendar is littered with opportunities to do just that."
A Democrat who served southern Indiana for 34 years in the U.S. House of Representatives, Hamilton points out, "Next month, unless Congress acts, doctors will see a steep cut in Medicare reimbursements. In May, the Highway Trust Fund runs out of money, meaning that infrastructure projects all across the country could grind to a halt. The following month, the federal Export-Import Bank's charter runs out. By the end of summer, Congress will need to raise the debt ceiling. Then it will have to find a way of funding the government for next year, deal with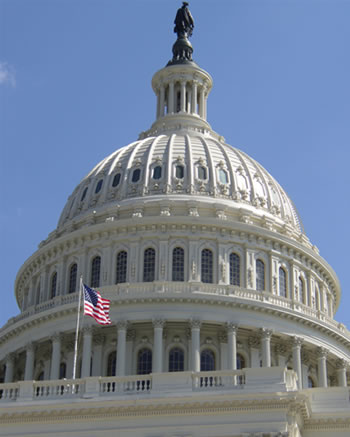 across-the-board spending cuts that are scheduled to take hold and make it possible for the Treasury to continue to borrow money. I don't know about you, but my bet is not on smooth sailing."
He observes, "This is a huge problem. World superpowers do not risk their creditworthiness or threaten to strangle their own agencies or force them to plan repeatedly for shutdowns. Yet that is precisely the habit Congress has developed. It's embarrassing."
Calling the current political climate "difficult," Hamilton says that "legislating is about getting things done in a difficult environment. Congress is designed to be an institution where the dilemmas of the moment can be overcome by skillful legislators. We need a Congress that can address its problems before a crisis comes up."
He says that lawmakers "need to work at legislating every day -- not just the three days in the middle of the week. Its leaders need to make clear their determination to move legislation through in an orderly fashion. The so-called 'Hastert Rule -- that the Speaker of the House will not allow a vote on a bill unless he has a majority of his own party behind it -- needs to be jettisoned for good, not just in extreme circumstances. Allowing a majority of the House and the Senate to work its will, whatever the partisan alignment, would do wonders. And perhaps most important, the tactic of tying two unrelated issues together in order to force an opponent's hand needs to be rejected."
The column concludes, "The parade of make-or-break issues that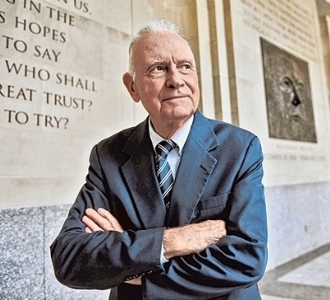 Congress faces this year presents myriad opportunities for legislative mischief. If all we see before us is one government shutdown threat after another, the remaining faith Americans hold in our chief lawmaking body could disappear altogether -- and deservedly so."
Access the complete essay, which is published in a number of newspapers, at the website of Missouri's Marshfield Mail.
Called "Mr. Integrity" by Newsweek, Lee H. Hamilton is director of the Center on Congress at Indiana University. He is also a member of the President's Homeland Security Advisory Council, the CIA External Board and the United States Department of Homeland Security Task Force on Preventing the Entry of Weapons of Mass Effect on American Soil.
Honors for Hamilton include the Churchill Award for Statesmanship, the Eisenhower Medal for exceptional leadership, the Distinguished Service Award from the U.S. Association of Former Members of Congress, and the Franklin and Eleanor Roosevelt Institute Freedom From Fear Award, among many other honors. Earlier this month, he was named as one of five 2015 inductees into the Capital One Academic All-America®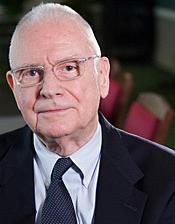 Hall of Fame, as selected by the College Sports Information Directors of America (CoSIDA).
A history major and basketball standout at DePauw, Lee Hamilton has authored How Congress Works and Why You Should Care; Strengthening Congress; and A Creative Tension: The Foreign Policy Roles of the President and Congress. He co-authored (with Gov. Thomas Kean) Without Precedent: The Inside Story of the 9/11 Commission. He's also a member of the Indiana Basketball Hall of Fame.
Congressman Hamilton has been a frequent visitor to DePauw over the years and delivered an Ubben Lecture on March 15, 2011 (video embedded below) and the commencement addresses in 1971 and 1998.
Back