President Casey Talks with Chronicle of Higher Ed About Indiana's Religious Freedom Restoration Act
March 31, 2015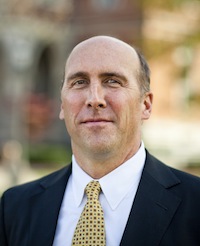 "I always think that university presidents have to be very careful speaking about current political matters," DePauw University President Brian W. Casey tells the Chronicle of Higher Education. An article today notes that since Indiana Gov. Mike Pence signed the Religious Freedom Restoration Act into law last Thursday, the presidents of seven Indiana colleges -- including DePauw -- have issued statements about it.
Dr. Casey tells the Chronicle, "The last thing you want to do is develop official positions that stop debate on your campus. You wade into these waters only at the right time."
He adds, "We are in the business of attracting faculty and students, and if we are located in a state that does not look to be a place welcoming of all folks, that immediately hurts us. That's the tipping point of the reason why you make the statement."

Madeline Will writes, "DePauw will soon host an event at which students can debate the merits of the law. 'You want to make sure you're providing those spaces to have those conversations,' Mr. Casey said."
The article points out, "The ramifications of the law are unclear. Advocates say it's meant to protect religious liberty, but many others have expressed concern that the law will become a tool of discrimination -- a way to allow businesses to turn away lesbian, gay,
bisexual, and transgender customers. Perhaps because of the lack of clarity about the law, colleges are fielding calls from concerned prospective students and parents."
Access the complete article at the Chronicle's website (a subscription may be required).
President Casey's statement, which was issued Sunday afternoon, is available here.
Source: Chronicle of Higher Education
Back