Media Outlets Report on DePauw Visit by Former VP Dan Quayle '69
April 1, 2015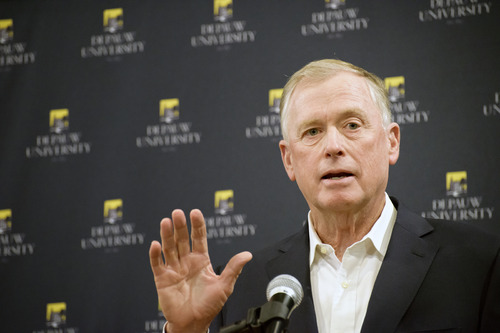 "Former Vice President Dan Quayle said Tuesday that Gov. Mike Pence and opponents of the controversial 'religious freedom' law need to step back and have a civil discussion about how to fix it," reports the Indianapolis Star. The story by Chris Sikich notes, "Quayle, a 1969 graduate of DePauw University, spoke to reporters Tuesday while on a previously scheduled visit to the university in Greencastle, about an hour west of Indianapolis."
During a news conference yesterday before his Ubben Lecture at DePauw, Quayle told reporters in the Pulliam Center for Contemporary Media, "I do think that we ought to take a little bit of a pause here and see what the bill really does, see what the fix can be and have an intelligent discourse on two very fundamental principles that are wrapped around this issue -- the principles of religious freedom and religious liberty and the principle of nondiscrimination, that there should not be any tolerance for discrimination against one's race, religion or sexual orientation."
Sikich reports, "An Indiana native, Quayle now lives and works in Arizona. He said the media backlash that began last week hurt him, as a former Indiana resident. He was an Indiana congressman and senator before being elected to one term as vice president under George H.W. Bush," the text notes.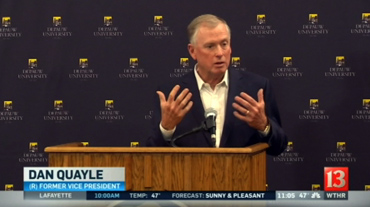 Quayle told the reporters -- both professional and student -- at DePauw, "When you hear words like Indiana, Hoosiers, believe in discrimination, you have people like Al Sharpton saying this is like slavery and the Jim Crow laws, you just say, 'Come on, let's have a discussion, let's have a rational discussion. Let's figure out what this is all about.' "
Access the story at IndyStar.com.
Television stations from Indianapolis and Terre Haute were also on hand for the former vice president's visit. Clips are embedded below.
A front page article in Greencastle's Banner-Graphic began, "With political observations ranging from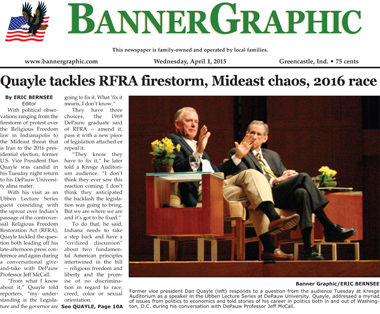 the firestorm of protest over the Religious Freedom law in Indianapolis to the Mideast threat that is Iran to the 2016 presidential election, former U.S. Vice President Dan Quayle was candid in his Tuesday night return to his DePauw University alma mater."
Eric Bernsee writes, "With his visit as an Ubben Lecture Series guest coinciding with the uproar over Indian's passage of the controversial Religious Freedom Restoration Act (RFRA), Quayle tackled the question both leading off his late-afternoon press conference and again during a conversational give-and-take with DePauw Professor Jeff McCall."
Access the complete story at the newspaper's website.
Back