CNN Contributor, Author & Former White House Adviser Van Jones Coming for April 22 Earth Day Speech
April 3, 2015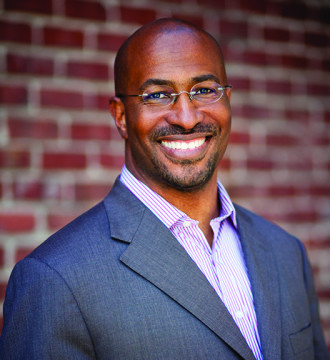 Van Jones, a CNN political contributor and environmental advocate, is coming to DePauw University to deliver an address on Earth Day, Wednesday, April 22. The 7:30 p.m. program in Meharry Hall, which is located within DePauw's historic East College, is being presented by the Environmental Fellows Program's "What a Waste!" speaker series. The event is free and open to all.
A Yale-educated attorney, Jones regularly appears across CNN's programming and special political coverage. He is the founder of six not-for-profit organizations engaged in social and environmental justice, including Green for All, dedicated to jobs training in the green sector with the goal to help lift people out of poverty, and #YesWeCode, a national initiative which aims to train 100,000 low-opportunity youth to become high-level computer programmers.
In 2009, Jones worked as the green jobs adviser to President Barack Obama. In this role, he helped to lead the inter-agency process that oversaw the multi-billion dollar investment in skills training and jobs development within the environmental and green energy sectors.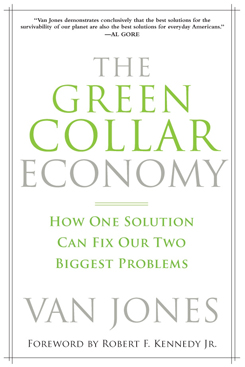 Jones is also a senior fellow with the Center for American Progress and focuses on policy matters related to green jobs and how cities are implementing job-creating climate solutions. He has written two New York Times bestsellers: The Green Collar Economy and Rebuild the Dream.
Rolling Stone included Van Jones on a 2012 listing of "12 Leaders Who Get Things Done", and he was among TIME's 2009 "100 Most Influential People in The World".
"We are entering an era during which our very survival will demand invention and innovation on a scale never before seen in the history of human civilization," Jones wrote in The Green Collar Economy . "So in the end, our success and survival as a species are largely and directly tied to the new eco-entrepreneurs -- and the success and survival of their enterprises. Since almost all of the needed eco-technologies are likely to come from the private sector, civic leaders and voters should do all that can be done to help green business leaders succeed. That means, in large part, electing leaders who will pass bills to aid them. We cannot realistically proceed without a strong alliance between the best of the business world -- and everyone else."
Back