Flutist Orlando Cela '97 Returns for April 8 Performance
April 2, 2015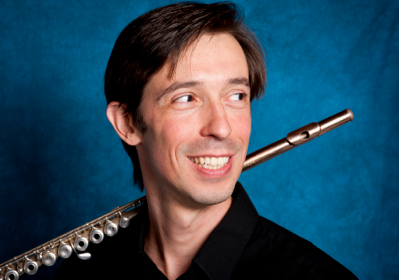 Venezuelan flutist Orlando Cela, a 1997 graduate of DePauw University, returns to his alma mater next week to present the next Faculty Select Series concert. The program will take place on Wednesday, April 8, at 7:30 p.m. in Thompson Recital Hall, located within the Green Center for the Performing Arts.
Known for his extended technique and collaborations on new works, Cela will perform a range of music from Edgard Varèse's 1936 composition "Density 21.5" to "Anūsvâra" by Indian composer Shirish Korde celebrated for "integrating and synthesizing music of diverse cultures into breathtaking works of complex expressive layers."
While at DePauw, Cela studied with music professors Anne Reynolds and Eric Edberg.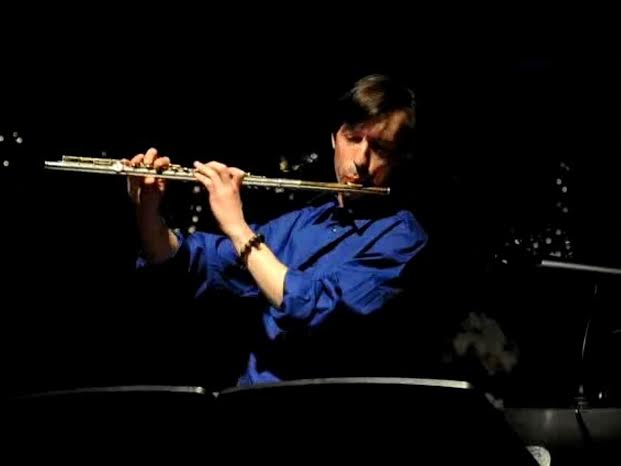 "Orlando is an inspiring performer," Reynolds says. "His Latin background shows up in his musical verve and excitement; he's an experimenter and a risk taker. He also was a challenge to teach. He's willing to follow a path not knowing exactly where it's headed," she adds. "He has really made something of his life and not just in this country."
Cela is currently completing his fifth recording, Project Extended, a compilation of pieces by contemporary composers who wrote works for him using nothing except extended techniques, such as multiphonic flutter-tonguing, turtledove trills, circular breathing and lip pizzicato.
The flutist's love of music from all over the world also inspired him to create Las Paraulatas Bostonianas --a group that expands the tradition of Venezuelan folk music -- and to learn to play different kinds of flutes, including 'dizi' (a Chinese flute), at the Kogod Courtyard of the Smithsonian Museum in Washington, D.C. Cela plays in a wide variety of styles and settings, having performed with the Ensemble 451, I/O New Music Ensemble, Music at Eden's Edge, Duo SopraVoce, as a solo and collaborative performer in the U.S. and abroad in the Czech Republic, Austria, Hungary, Spain, Great Britain and China,
including lecturing and performing for the MusicAcoustica Electroacoustic Music Festival at the Central Conservatory of China.
During his visit to DePauw, a part of the School's 21st Century Musician Initiative, Cela will talk with composition students and play some of their new works, meet with the DePauw Flute Choir and play two very different concerts, including a program of Germanic flute for the 10:20 a.m. Wednesday morning recital hour. Then for the Faculty Select concert at 7:30 p.m., he will perform a collection of contemporary music for flutes and electronics (live, sampled and created), featuring the works of Natacha Diels, Peter Koeszeghy, Shirish Korde and Edgard Varèse, among several others.
General admission tickets for the Faculty Select Series are $5. Tickets for all students, seniors, and youth, are free thanks to season sponsors Judson and Joyce Green ('74 & '75). To obtain tickets, visit www.depauw.edu/music/tickets or stop by or call the Green Center box office, (765) 658-4827.
Back