Greencastle and DePauw Featured in Magazine Article Highlighting Small Town Getaways
April 20, 2015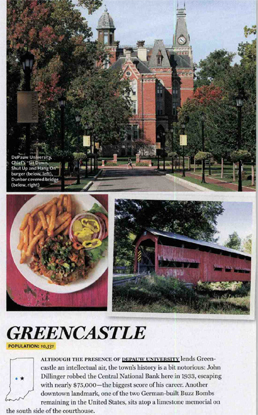 A feature in the current edition of Grand Rapids magazine spotlights "10 Indiana small towns worth filling the gas tank for," including Greencastle.
The text, which is accompanied by several photos -- including one of historic East College -- notes, "Although the presence of DePauw University lends Greencastle an intellectual air, the town's history is a bit notorious: John Dillinger robbed the Central National Bank here in 1933, escaping with nearly $75,000 -- the biggest score of his career. Another downtown landmark, one of the two German-built Buzz Bombs remaining in the United States, sits atop a limestone memorial on the south side of the courthouse. Seek out Putnam County's nine postcard-perfect covered bridges for a more romantic self-guided tour; legend has it, you're supposed to kiss your beloved while crossing each one."
The piece also offers a tip of the hat to local eateries Almost Home (and its bar, the Swizzle Stick), Chiefs and Putnam Inn, as well as two bed and breakfasts.
The magazine is on newsstands now. Learn more at the publication's website.
Back