DePauw & Local School Students Collaborate on Annual 'Spring Spectacle of Shakespeare', May 2
April 21, 2015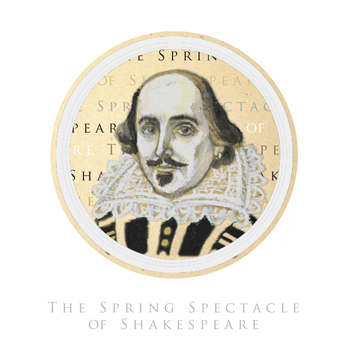 DePauw Theatre's 2014-15 season closes with the annual Spring Spectacle of Shakespeare on Saturday, May 2 in Moore Theatre, located within the Green Center for the Performing Arts. The festival marks the end of a semester-long, intensive program between DePauw University, Shakespeare & Company, and six Putnam County middle and high schools to produce three of Shakespeare's plays.
This year's festival was under the direction of Amy Hayes, part-time assistant professor of communication and theatre, and assistant student directors, Grace M. Lazarz '15 and Kay L. Wood '15.
The program is founded upon the principles of the nationally recognized and award-winning program created by Shakespeare & Company in Lenox, Massachusetts. DePauw students are trained to work with youth and teach Shakespeare's material in an accessible way through theatre games and acting out the text. Participants from the county schools learn to use their voices and bodies to experience Shakespeare's text in a way that traditional analysis doesn't provide.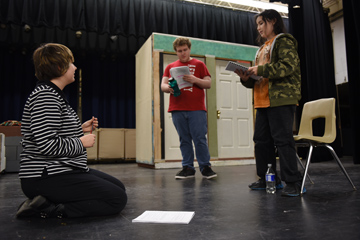 Cloverdale Middle and High School students will perform King Lear at 2 p.m. The tragedy tells the tale of a father and king who loses his mind after dividing his kingdom between his three daughters through a series of tests. DePauw students Carter Gorman '14, Laurel O'Rourke '17 and Jerica Bean '18 direct the play.
North Putnam Middle and High School students (seen at left) will perform Hamlet at 4 p.m. Another tragedy, Hamlet is the tale of a man who seeks revenge for the death of his father. Students were under the direction of DePauw students Alison Howard '16, Taylor Zartman '15 and Annie Remack '18.
Finally, Greencastle Middle and High School students (in photo below right) will perform Twelfth Night at 7 p.m. One of Shakespeare's comedies, Twelfth Night focuses on the stories of twins separated after a shipwreck. DePauw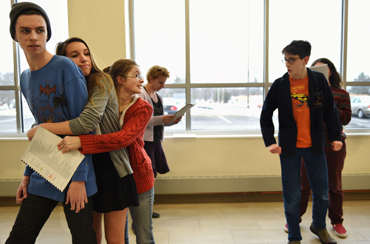 students Laura Loy '16, Oley Yager '17 and Midori Kawaue '17 direct the show.
Tickets for each performance are $3 for students and $6 for general audiences. Festival passes are also available, providing access to all three shows. Passes are $6 for students and $12 for general audiences. Tickets can be purchased at the Green Center box office or online at brownpapertickets.com/event/1429083.
Back