"Master Technician" Brad Stevens '99 Leads Boston Celtics to NBA Playoffs
April 21, 2015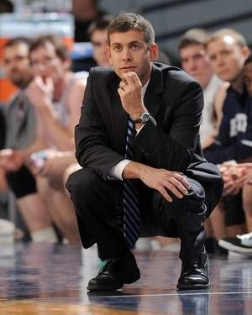 Brad Stevens, head basketball coach of the Boston Celtics and 1999 graduate of DePauw University, "has been called a coaching prodigy, a wunderkind and compared to legends from John Wooden to Gregg Popovich," notes a story in the Eagle-Tribune of North Andover, Massachusetts. "At the same time, his team has perplexed the sports world. The Boston Celtics are actually in the playoffs? This roster of castoffs and afterthoughts? The team that traded its only All-Star, and regularly utilizes four players that have spent time in the NBA Developmental League in the last 12 months?"
The Celtics lost the opening game of their series with the Cleveland Cavaliers Sunday by a 113-100 score. Game two is tonight.
David Willis writes that the coach "is a master technician, whose even demeanor has a calming impact on his players, and whose preparation is unrelenting ... Stevens played his college basketball at tiny Division 3 DePauw University (Indiana), and after college worked for the pharmaceutical company Eli Lilly. It wasn't until then-Butler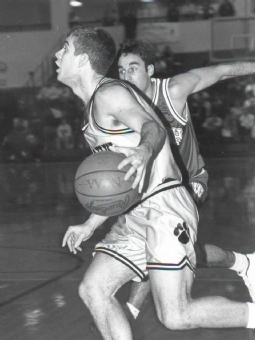 coach Thad Matta offered him a volunteer position working with the staff that his coaching career kicked off. And even then, he briefly worked at Applebee's to pay the bills. But it did not take long for those around Butler to realize Stevens was special."
You'll find the complete article at the newspaper's website (a subscription may be required). (at left: Stevens, as an undergraduate, drives toward the basket)
Brad Stevens, who was an economics major and Management Fellow at DePauw, played four years on the Tiger basketball team. "My experience at DePauw was about as beneficial as any experience I've had," he told ESPN.com in November 2013.
On April 13, 2010, Stevens returned to his alma mater to deliver the Robert C. McDermond Lecture.
Also available is this recent story.
Back