"Mad Scientist of Music," Composer Mark Applebaum, Coming for Thursday Concert
April 19, 2015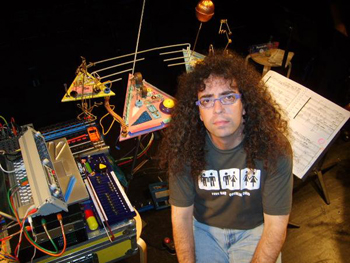 The quirky American composer and electroacoustic-instrument builder Mark Applebaum will join the DePauw Percussion Ensemble, student soloists and faculty guests for an evening of his original works at DePauw University this Thursday, April 23. The 7:30 p.m. Faculty Select Series concert, which takes place in Kresge Auditorium, Green Center for the Performing Arts, includes performance of scores with curiosity-inducing titles like "The Metaphysics of Notation" (the full score of which is 72 feet wide), "Echolalia" and "Composition for Machine No.1."
When confronted with a piece of experimental music, Applebaum, a professor of music composition at Stanford, asks: "Is it music? This is not the important question. The important question is, is it interesting?" Audience members will hear visual art become sound, see a piece of music that involves no sound at all, experience a work for solo performer of American Sign Language and become enveloped in Applebaum's unique percussive soundscape.
The unconventional composer is also active as a jazz pianist and has concertized from Sumatra to the Czech Republic, most recently performing a solo recital in Ouagadougou, Burkina Faso sponsored by the American Embassy. At present he performs with his father, Robert Applebaum of Chicago, in the Applebaum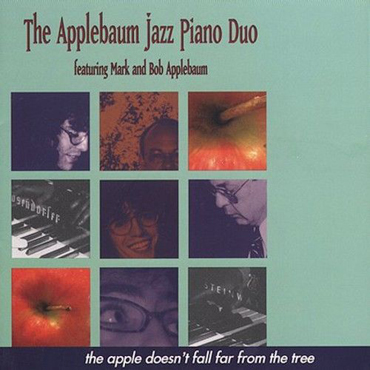 Jazz Piano Duo. Their first recording, The Apple Doesn't Fall Far from the Tree, is available on Innova.
At Stanford University, Applebaum also serves as the founding director of [sic]—the Stanford Improvisation Collective.
To learn more, about the composer's quest to combat boredom in new music, watch his 2012 TEDxStanford talk.
General admission to this Faculty Select Series concert is $3. Tickets for all students, seniors, and youth, are free, thanks to season sponsors Judson and Joyce Green ('74 & '75). To ensure that any person wishing to attend a performance is able to do so, a pay-what-you-can option is also available, online and on request at the box office. For tickets, visit www.depauw.edu/music/tickets or stop by the Green Center box office (605 S. Locust Street).
Back