University Band Recognizes Graduating Seniors Sunday in Final Performance
April 21, 2015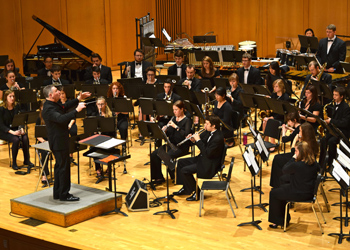 Craig Paré, professor of music, will lead the DePauw University Band in its final concert of the year, "Make a Joyful Noise," on Sunday, April 26, at 3 p.m. in the Green Center's Kresge Auditorium.
The band kicks off the afternoon with the great brass ensemble piece, Fanfare pour précéder "La Péri," by Paul Dukas, followed by DePauw faculty member James Beckel's Make a Joyful Noise, the final two movements of Walter Hartley's Concerto for 23 Winds and the classic Suite of Old American Dances by Robert Russell Bennett, "the dean of Broadway orchestrators." The concert will also feature Desi by Michael Daugherty (a tribute to Cuban bandleader and television star, Desi Arnaz), and wraps up with an arrangement of the exciting Festive Overture by Dmitri Shostakovich.
"This is a nice 'smorgasbord' of works, with a variety of styles, all very lively and interesting in their own ways," says Dr. Paré. "Seven graduating members of the band will also be recognized at the conclusion of the concert: Robert Martens (oboe), Kevin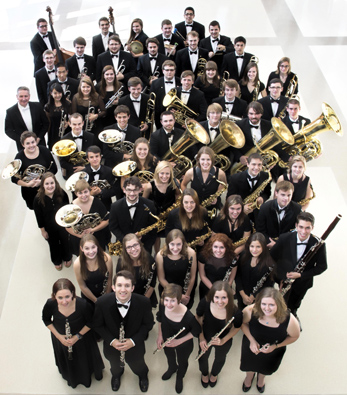 Smith (saxophone), David Gordon (trumpet), Kyle Hahn and Adam Hutsell (tuba), Rachel Robin (piano) and our stage manager Kaitlyn Koby, who has played trombone with the ensemble for seven semester. Each senior has distinguished themselves through their commitment, musicianship and personality. They will all be greatly missed."
Audience members are asked to bring a non-perishable food item that will be donated to the Putnam County Emergency Food Pantry in exchange for a free ticket to the University Band performance.
General admission to the band concert is $3. Tickets for seniors, all students and children, are free thanks to season sponsors, Judson and Joyce Green. To obtain tickets, visit www.depauw.edu/music/tickets, or stop by the Green Center box office. For more information, contact Professor Paré (cpare@depauw.edu).
Back