Prof. Jeff McCall '76 Bemoans "Lowest Common Denominator Approach" to Newsgathering
April 25, 2015
"NBC's high-profile anchor, Brian Williams, has been suspended for telling tall tales," notes Jeffrey M. McCall, professor of communication at DePauw University. "ABC's highest-profile news personality, Diane Sawyer, has gone super-hype with her two-hour, prime-time interview of Bruce Jenner. CNN has redefined news to include travel and cooking shows, and multi-hour reports on marijuana. Reporters sprint like groupies to catch up with Hillary Clinton's van in a remote part of Iowa, even though the presidential election is still 18 months away. Somewhere, Edward R. Murrow is saying, 'I warned you this would happen.' "
In a column published in several newspapers, including the Indianapolis Star, Dr. McCall notes, "This month (April 27) marks 50 years since the godfather of broadcast news died. Murrow is often considered the standard setter for professionalism in electronic news. Murrow's influence is remarkable, given that he spent little time in administration at CBS, and he was never a lead anchor for radio or television. Still, he established himself as the model for how to use audio and video to report real news."
According to the professor, "His reports from London in World War II riveted the nation. His prime-time television documentaries in the 1950s took on the tough issues of the day, including McCarthyism. He identified and hired dedicated reporters who reflected his passion and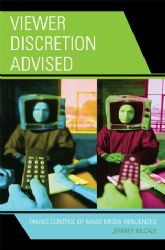 dedication to serving the public interest. He hired intellects who could think critically and fearlessly ... He told CBS executives he was hiring reporters, not merely announcers. After the war, Murrow was put in charge of CBS News, and he hired Walter Cronkite, Daniel Schorr and Robert Pierpoint. One must wonder if any of the Murrow Boys could get hired in the glamorama that is television news today."
McCall, author of the book Viewer Discretion Advised: Taking Control of Mass Media Influences, points out, "Broadcast news in the Murrow era was not a profit center for the networks, nor was it intended to be. His prime-time documentaries were produced at a financial deficit for CBS, but Murrow's clout got them produced anyway. That would be unthinkable today. Imagine how the quality of television news could be improved if Disney, the parent company of ABC, steered the profits of ABC News back into the news division to underwrite real journalism. The mega media giant Comcast can surely afford to use some of NBC's news profits to better serve the information needs of the nation."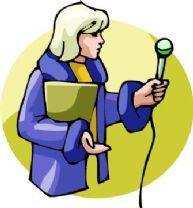 In McCall's view, "What exists now in television news is a lowest-common-denominator approach in which serious journalism is too often absent. Morning news shows produced by network news divisions are journalistically vacuous. At ABC's Good Morning America, the anchor lineup includes a former sportscaster, retired football player, partisan political operative, weather ornament and super-excited pop culture observer who can't stop laughing. Murrow hires these are not."
Though imperfect himself, Murrow "insisted that journalism be based on facts and that those facts be analyzed with fairness," states McCall. "He knew then that the speed of communication often led to the distribution of false information. Fifty years after his death, the electronic news industry has no person or organization that can provide a professional conscience as Murrow once did. The nation suffers for this lack."
You'll find the complete essay at IndyStar.com.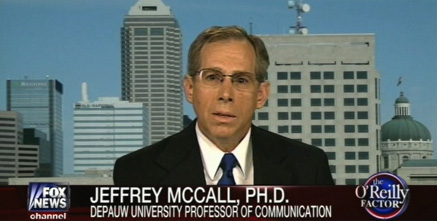 A 1976 graduate of DePauw and a former journalist, Jeff McCall serves as faculty adviser to student radio station WGRE. Frequently quoted in articles on media matters, the professor has been quoted in stories on media matters in more than 100 newspapers. McCall contributed to an article this week on superhero movies and was a source in recent pieces in the Los Angeles Times and Orange County Register. He also moderated DePauw's March 31 Ubben Lecture featuring the 44th Vice President of the United States, Dan Quayle '69.
Source: Indianapolis Star
Back