Andrew Luck "Dazzled" DePauw Audience: Indianapolis Star
April 25, 2015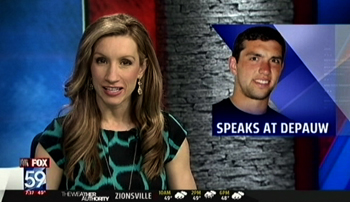 A headline on the front page of this morning's Indianapolis Star sports page, "Beardless and funny before a college crowd," recaps last night's visit to DePauw University by Andrew Luck.
"Luck dazzled a crowd of 1,400 at DePauw University on Friday, there as part of the Timothy and Sharon Ubben Lecture Series," writes Dana Hunsinger Benbow. "He spoke to students for a program called 'Creating Your Personal Game Plan for Success.'
"Luck made one thing crystal clear. He wasn't there to lecture these young people. 'As far as advice? I'm only 25,"'he said to the crowd, which quickly applauded. 'I don't have any advice.' "
Access the article at the newspaper's website.

Several television stations also covered the event, the fifth and final Ubben Lecture of the academic year at DePauw. Video is embedded below.
A summary of Andrew Luck's talk, including photos and a video montage, can be found here.
Source: Indianapolis Star, WXIN & WISH
Back