"Experienced Supreme Court Advocate" Douglas Hallward-Driemeier '89 to Argue Same-Sex Marriage Case Tomorrow
April 27, 2015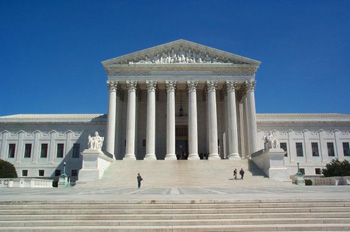 "Five lawyers will take turns at the Supreme Court lectern Tuesday for the highly anticipated and extended arguments over same-sex marriage," reports the Associated Press, including a 1989 DePauw University graduate. "Washington lawyer Douglas Hallward-Driemeier will urge the court to rule that states must recognize same-sex marriages performed elsewhere. On the other side will be Joseph Whalen, Tennessee's associate solicitor general."
Mark Sherman writes, "The justices will hear 2½ hours of arguments on these two questions: whether same-sex couples have a constitutional right to marry and whether states must recognize same-sex marriages from elsewhere. Civil rights lawyer Mary Bonauto, backed by Solicitor General Donald Verrilli Jr., will argue for the right to marry. Former Michigan Solicitor General John Bursch will defend the state laws."
The story notes of Hallward-Driemeier, "The Harvard Law School graduate is an experienced Supreme Court advocate
with no previous ties to same-sex marriage cases. Tuesday's argument will be his 16th at the high court. Hallward-Driemeier, 48, heads the appellate practice at Boston-based Ropes and Gray. He spent several years at the Justice Department and before that was a law clerk to Judge Amalya Kearse of the 2nd U.S. Circuit Court of Appeals in New York. He is a St. Louis-area native who graduated from DePauw University in Greencastle, Indiana. He met his wife, the former Mary Hallward, when both were Rhodes Scholars at Oxford University in England. When they married, they combined their last names."
Read more at the Washington Post's website. Also available is this recent summary.
Doug Hallward-Driemeier was awarded a Rhodes Scholarship his senior year. A political science major and a Spanish minor, he was also a Rector Scholar as an undergraduate.
Back