Concert Season Concludes Sunday with Beethoven's Ninth Symphony
April 27, 2015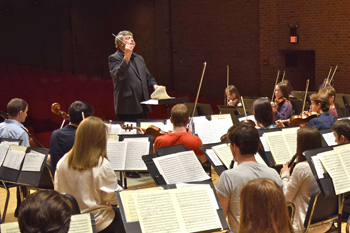 For the culminating event of the 2014-15 DePauw University School of Music concert season, Orcenith Smith conducts DePauw's massed choirs and orchestra in a performance of Beethoven's majestic Symphony No. 9 in D Minor. The concert takes place this Sunday, May 3, in the Green Center's Kresge Auditorium at 3 p.m.
The work's familiar choral finale, "Ode to Joy," with its universal message of hope and brotherhood, will feature faculty soloists Pamela Coburn (soprano), Caroline B. Smith (mezzo-soprano), Kerry Jennings (tenor) and guest Charles Stanton (baritone). Kristina Boerger, interim director of choirs, prepared the combined DePauw Chamber Singers and University Chorus.
The Ninth is considered not only Beethoven's finest symphonic work but, arguably, the centerpiece of Western classical music -- or, as Tom Service,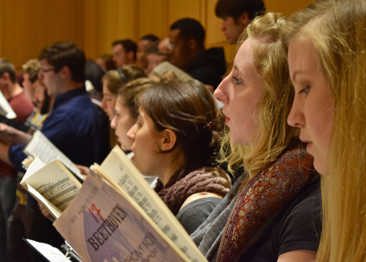 music writer for the UK's Guardian, describes it, "the symphony to end all symphonies."
The first three movements present the orchestra on a revelatory, almost monumental, trajectory as the composer sets the mood for the gripping fourth movement in which the soloists and choir sing the famous words to the "Ode to Joy" poem, written by the Enlightenment philosopher Friedrich Schiller.
"As a double bassist, this is one of the most difficult pieces most musicians will ever perform in an orchestral ensemble setting," says Connor Allen, senior double bass major. "It has given me a greater appreciation for my own instrument."
"Beethoven's Ninth is a very moving work," adds Anna Gatdula, a senior voice major, "because of its sheer power and innovation. In one of our rehearsals, Dr. Boerger reminded us that before this piece premiered no one had heard choral music performed within a symphonic work."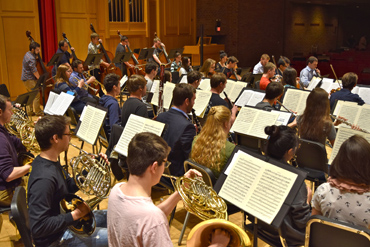 A boundary-breaking achievement when it was first performed in 1824, Beethoven's Symphony No. 9 is ever-inspiring to experience live and a jubilant conclusion to both the School of Music's season and graduating seniors' four years at DePauw.
General admission to the joint choir and orchestra concert is $3; tickets for seniors, children and all students are free. For ticket information and purchases, visit www.depauw.edu/music/tickets or the Green Center box office (Monday–Friday 12–4 and 6–8 and Sunday noon–8 p.m.)
Back