Movie With Many DePauw Connections, Reparation, Takes 'Best Feature' Prize at Film Festival
April 29, 2015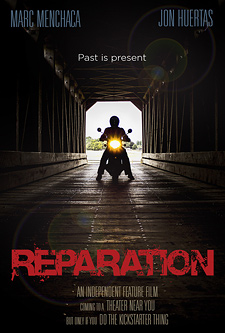 Reparation, a film directed by 1994 DePauw University graduate Kyle Ham and adapted from a play by professor of communication and theatre Steve Timm, was named "Best Feature" at the Julien Dubuque International Film Festival. The fourth annual event, which took place in Dubuque, Iowa, April 23-26, awarded more than $35,000 in five categories.
Read more at the festival's website.
The movie is currently being featured at the Newport Beach Film Festival.
Filmed in Putnam County last summer, Reparation stars Jon Huertas, Virginia Newcomb and Marc Menchaca and includes contributions from a number of members of the DePauw community. Learn more in this feature article.
Indianapolis Fox affiliate WXIN came to Greencastle last summer to report on the production. The reports can be accessed here.
Back