Media Buzz Continues Following Andrew Luck's DePauw Visit
May 3, 2015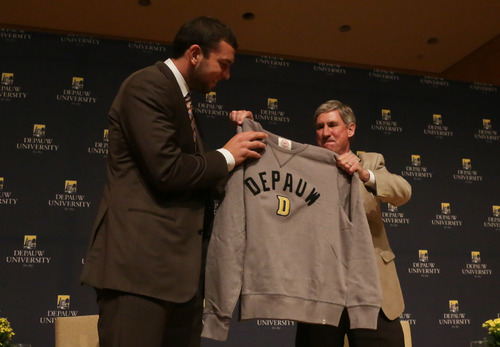 It's been nine days since Andrew Luck was at DePauw for an Ubben Lecture, but his words are still reverberating. Today's edition of the Winnipeg Free Press includes a quote from the event in the "Sideline Chatter" column. (photo: Luck receives a DePauw sweatshirt from head football coach Bill Lynch)
It reads, "Colts QB Andrew Luck, to students at DePauw University, on the perks of being a leader: 'I get somewhat of a sick enjoyment out of getting to yell at people.' "
Access it at the newspaper's website. The comment has appeared in other venues, including the Seattle Times and the Sporting News.
A summary of Andrew Luck's visit to DePauw is available here. A roundup of other media coverage is noted in this summary.
Source: Winnipeg Free Press
Back