Lauren Bohlander '04 and Tony Kanaan Bring New "Cheerleader" to Indy 500
May 8, 2015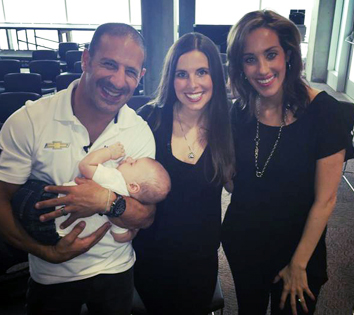 "It is always worth saying how much we love being here," says Lauren Bohlander. The 2004 DePauw University graduate and her husband, IndyCar driver Tony Kanaan, are in Indianapolis for the May 25th Indianapolis 500. The couple is featured in a story which aired on Fox affiliate WXIN-TV. [photo, l-r: Tony Kanaan (holding Deco), Lauren Bohlander and Nicole Pence]
"Tony Kanaan is going after his second win, and Kanaan will have an extra cheerleader this year," reports the station's Nicole Pence, who is a 2006 DePauw graduate. "Deco Kanaan -- Tony's second child and first with wife Lauren Bohlander -- was born in January ... Bohlander is a Cambridge City native and graduate of DePauw University."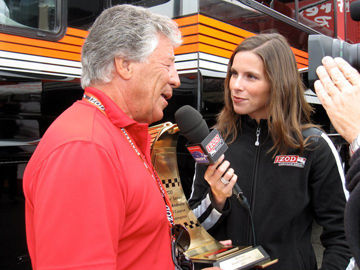 Access video of the report at the station's website.
As a communication major at DePauw, Lauren Bohlander (seen at left interviewing racing legend Mario Andretti) worked on the campus television station, D3TV. She's worked professionally for NBC Sports, the Big Ten Network, Pacers Sports & Entertainment, and Fox Sports Florida and co-hosts TV's Garage Squad. Learn more in this previous story.
Back