Weather Forecast Remains a Factor as DePauw's 176th Commencement Nears
May 15, 2015
Links: Commencement Info; Weather; Webcast; Pre-Order Your DVD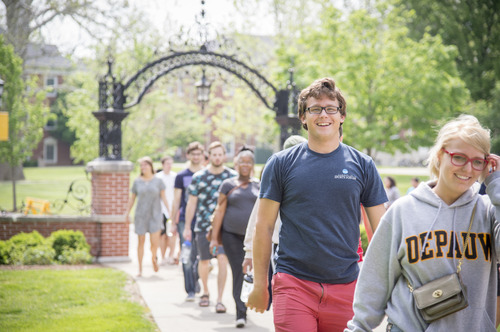 The Greencastle weather forecast for Sunday is looking brighter, in more ways than one, as DePauw University prepares to graduate about 500 students. Two days ago, forecasters were calling for a wet weekend, but as of noon Friday the outlook is for partly cloudy skies Sunday and a high of around 80 degrees. Scattered thundershowers are also forecast, but not until Sunday evening.
[UPDATE 5/17 9:39 a.m.: Commencement exercises remain planned for Holton Quad at 10:30. Should rain begin, the program may have to be suspended and relocated to the Lilly Center. ]
DePauw's 176th commencement ceremony is set to begin at 10:30 a.m. in Holton Memorial Quadrangle. In the event of adverse conditions, the proceedings will be moved to the Lilly Center.
You'll find the latest weather forecast by clicking here.
This morning, members of the Class of 2015 gathered for a walk-through of Sunday's ceremony and then enjoyed lunch served
in the Ubben Quad (seen at left). A photo gallery is available here.
For those unable to be on campus, a webcast of the program will be available at the University's video portal (once there, click "watch"). An archived version of the four-camera shoot will be available at the same location after the ceremony is completed.
Saturday's 4 p.m. baccalaureate program will also be webcast and is available from the same link.
Ruth J. Simmons, president emerita of Brown University, will address DePauw's Class of 2015. Cultural historian Joseph Horowitz and poet Rodney Jones will also be awarded honorary doctorates at the ceremony (learn more here).
Graduates and their families who wish to own a higher-quality, permanent video of DePauw's 2015 commencement may order a limited edition commemorative DVD. The disc, which is professionally replicated, will include footage of each graduate receiving their DePauw diploma as well as a range of bonus materials, including clips of some of the most memorable moments of the past four years, starting with the arrival of the graduating class on campus in August
2011 (embedded above), and including highlights from Ubben Lectures by Bill Clinton, Jane Goodall, Jimmy Kimmel, Leymah Gbowee and Dan Quayle '69. Orders are now being accepted at $19.95 for the first disc; additional DVDs sent to the same address will be $8 each (7% sales tax will be added to Indiana orders).
An online order form is available here; you can learn more about the disc in this article.
For more information on DePauw's commencement, click here.
Back