Legendary Music Dean Robert G. McCutchan Noted in Article on Hymn
May 17, 2015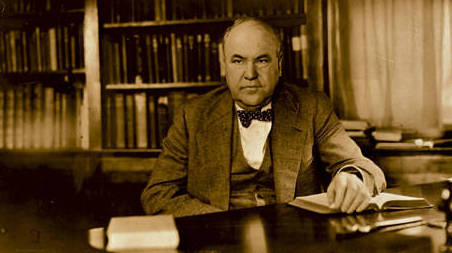 An article examining the hymn God of the Seas, published in North Carolina's Asheboro Courier-Tribune, notes, "The music for this hymn was composed by Robert Guy McCutchan. He was born on Sept. 13, 1877, in Mt. Ayr, Iowa. He was a noted hymnist.
"McCutchan attended college at Park College, Parkville, Missouri and Simpson College, Indianola. Iowa. He taught voice at Baker University in Baldwin, Kan., after graduation. In 1910, he founded the Conservatory of Music at Baker University. In 1917 after he went to Germany and France to continue his studies in music; he became dean of music at DePauw University in Greencastle, Ind. He served there for 26 years. He helped compile the Methodist Hymnal in 1936. Robert McCuthcan died on May 15, 1958, in Claremont, Calif."
The lyrics to God of the Seas were authored by Isaac Watts.
Read more at the newspaper's website.
Dr. McCutchan is seen in a 1937 film making the celebration of DePauw's centennial. It is embedded below.
Back