Greencastle HS Math Teacher Logan Kuhne Honored as Battey National Educator of the Year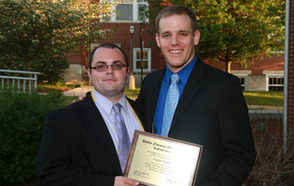 May 12, 2015
Logan Kuhne, a mathematics teacher at Greencastle High School, is the 2015 recipient of the Battey National Educator of the Year Award. Presented by DePauw University's Honor Scholar Program, the Battey Award recognizes a teacher who inspired a current DePauw Honor Scholar while that student was attending high school. (l-r, Cody Watson and Logan Kuhne)
"Mr. Kuhne has been a tremendous influence when it comes to my academic success here at DePauw," wrote Dakota "Cody" N. Watson, a current DePauw senior, in his letter of nomination. "He has taught me to be compassionate and focused as I work for my goals. Furthermore, Mr. Kuhne knows my goals and holds me to a standard of accomplishing them. He has stayed current on my progress here at school, and when we talk he makes sure to ask the challenging questions that my other high school teachers seem to avoid."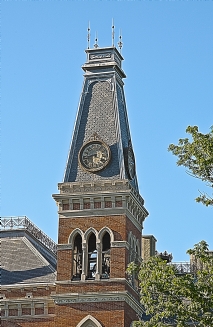 A computer science and history major, Cody Watson is DePauw's student body president. "As I prepare for the post-college world, I have a better understanding that Mr. Kuhne has impacted my life in more ways than I could ever hope to thank him for," he wrote. "He has taught me how to plan for the future, how to be compassionate and true to one's self, and more importantly to never stop having the Ganas, determination, to succeed."
Watson added, "Mr. Kuhne deserves this award as his influence on my life has not only helped me be successful here at DePauw, but also in becoming the man I want to become."
"Students don't care how much you know until they know how much you care, so I try to engage students," Kuhne says of his teaching philosophy. "When I see students outside school, I greet them. I ask the librarian what the students are reading, then read the same books to have a conversation. " He adds, "I want math to have hands and feet; I want math to leave the classroom with my students; I want math to assist them in their vocational endeavors and in their everyday life. I want my students to see the beauty and fun in mathematics, as they did when they were children trying to solve a puzzle."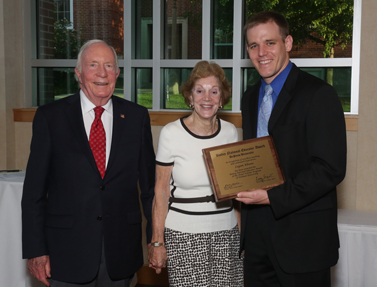 As the recipient of the Battey National Educator Award, Kuhne receives an honorarium of $9,850. The Battey Award also includes a $3,450 grant for Greencastle High.
A gift by Charles and Joan (Westmen) Battey created the endowment which funds the award, which was first presented in 2008. Mrs. Battey is a 1954 graduate of DePauw. Previous winners are: Gregory Lewis (2008), Andrew Goodwin (2009), Bruce R. Myers (2010), Stephanie Nagelkirk (2011), Perry Keil Thapa (2012), David Hoover (2013) and Tona Gardner (2014).
Back