2015 Commencement DVD Should Ship in About Three Weeks
May 21, 2015
Four days after DePauw University's Class of 2015 received their diplomas, the limited edition DVD of the 176th commencement -- including an array of extra features -- is on its way to the factory to be replicated. The disc contains all of Sunday's speeches, footage of each student receiving a diploma, a photo gallery from commencement weekend, and plenty of bonus materials and is designed to be a permanent keepsake for graduates and their families. (at right: the front jacket of the new disc; click here to see a 3D rendering of the art)
The DVDs are $19.95 for the first disc; additional DVDs sent to the same address will be $8 each (shipping to domestic addresses is included; 7% sales tax will be added to Indiana orders). An online order form is available here.
The discs are being professionally replicated by Oasis Disc Manufacturing. They should ship in two-to-three weeks.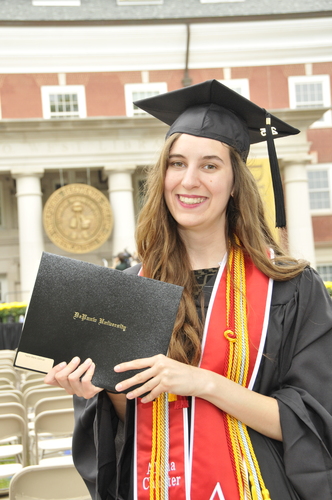 The four camera shoot of Sunday's event includes clear digital audio of the program. Those looking for a particular part of the ceremony can immediately access what they seek via the DVD's menu. Finding a graduate whose last name begins with the letter 'M', for instance, is made easier by clicking on the letter 'M' in the menu; that takes you immediately to the first person whose last name begins with the letter 'M' receiving his or her diploma. Users can also jump to specific speeches, or watch the program from beginning to end.
A section of clips labeled "Selected Campus Highlights, 2011-2015" begins with a montage of the August 2011 opening convocation at which the Class of 2015 was welcomed to DePauw. The chronologically presented clips also include the opening of the Starbucks on the courthouse square; the national championship women's basketball team; Ubben Lecturers such as Bill Clinton, Jane Goodall, Andrew Luck, Michio Kaku, Martin Luther King III, Bret Baier '92 and Jimmy Kimmel); a photo gallery recapping the commencement weekend;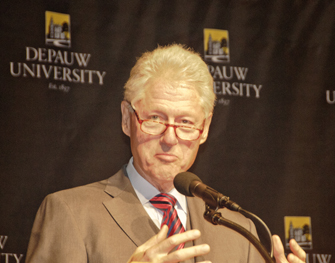 and "Monon Memories" of the last four football battles with Wabash College for the prized Monon Bell.
The DVD also contains vintage footage from the DePauw Archives, including a 1953 admission film, Developing Human Resources, which provides a look at campus life more than 60 years ago. Among the many other bonus items: footage of the 1993 news conference at which Bill Fenlon was introduced as the head coach of DePauw's men's basketball team.
This is the 14th commencement DVD that DePauw has produced, and the 36th DVD overall. Past projects include 18 Monon Bell Classics (1977, 1993, 1994 and 2000-14), some of which remain available here (supplies are very limited of several games; the 2004 and 2006 discs are sold out).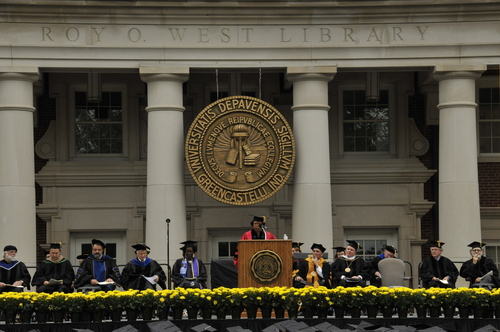 Also available are DVDs of past commencement ceremonies (which have been captured on disc since 2002) via this link.
Ruth J. Simmons, president emerita of Brown University, provided the principal address at Sunday's ceremony. For more information on the 176th commencement, click here.
Back