"Money is Poisoning Our Political System," Opines Lee Hamilton '52
May 24, 2015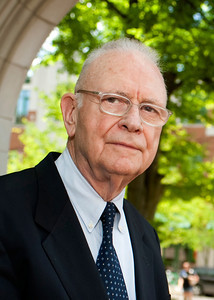 "I've seen a lot over my decades in politics, and not much alarms me," begins a newspaper column by Lee Hamilton. "But I have to be blunt: Money is poisoning our political system."
The veteran statesman and 1952 graduate of DePauw University asserts, "The people who matter most to a representative democracy -- the ordinary voters in whose interests elected politicians are supposed to act -- feel as though they've become an afterthought in the political process. The tidal wave of money washing over our elections, with no end in sight, is causing Americans to lose faith in the system. In that way, the course we're on threatens the core values and principles that define us as a nation. Oddly, many politicians see no problem -- except perhaps the inconvenient need to spend a significant portion of every day dialing for dollars. They don't, however, believe this is corrupting. They don't believe they're selling their votes, or even that money influences their behavior."
Hamilton, a Democrat who served southern Indiana for 34 years in the U.S. House of Representatives, points to polls that find Americans see members of Congress as corrupt and swayed by wealthy donors.
"If it appears that this state of affairs has gotten worse in recent years, it has indeed. A series of Supreme Court decisions over the last half-decade has resulted in Super PACs' unfettered ability to raise and spend money,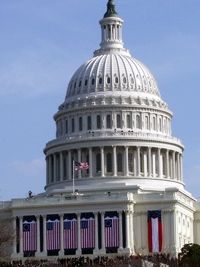 and freed individuals from limits on their giving. The result has been not just the surge in campaign spending we've seen, but the fact that much of it is 'dark' -- or beyond the ability of journalists and regulators to discern its sources. This money purchases attack ads that saturate the airwaves with scant clue as to who is funding them. It buys ads that drown out even the voices of the candidates and the parties themselves. It pushes our politics toward the extremes, emphasizing ideological purity, unremitting partisanship, and a political culture that exalts confrontation over consensus-building. In other words, it cripples representative democracy."
Hamilton argues that voters deserve clear, pre-election disclosure of where campaign donations have come from. He also proposes "to make public funds available for financing campaigns, thus amplifying the contributions of ordinary Americans, freeing candidates to spend more time on substance rather than fundraising, and letting them engage more fully with voters rather than donors. In states that have used it, public money works."
You'll find the complete essay in the Clermont Sun of Batavia, Ohio.
A history major and basketball standout at DePauw, Lee H. Hamilton is one of five 2015 inductees into the Capital One Academic All-America® Hall of Fame, as selected by the College Sports Information Directors of America (CoSIDA).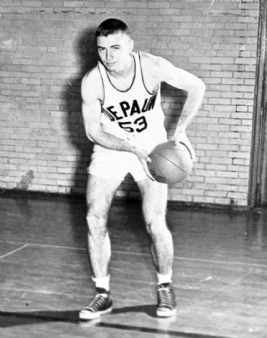 Called "Mr. Integrity" by Newsweek, Hamilton has previously received the Churchill Award for Statesmanship, the Eisenhower Medal for exceptional leadership, the Distinguished Service Award from the U.S. Association of Former Members of Congress, and the Franklin and Eleanor Roosevelt Institute Freedom From Fear Award, among many other honors. He's also a member of the Indiana Basketball Hall of Fame.
The New York Times' David Brooks opined of Hamilton, "The country is hungering for leaders like him: open-minded, unassuming centrists who are interested in government more than politics."
Congressman Hamilton has been a frequent visitor to DePauw over the years and delivered an Ubben Lecture on March 15, 2011 (video embedded below) and the commencement addresses in 1971 and 1998.
Back