Prof. Emeritus & Shakespeare Authority Edna Hayes Taylor Dies at Age 93
May 11, 1984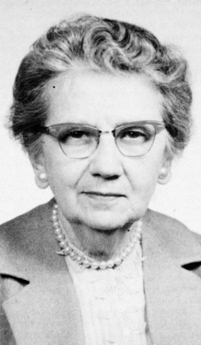 May 11, 1984, Greencastle, Ind. - Edna Hayes Taylor, who taught English at DePauw University for a quarter of a century and who is known for her life-long devotion to teaching the works of Shakespeare, died yesterday in Greencastle, one week short of her 94th birthday.
Born in Mt. Vernon, Ohio, Taylor expressed interest in a student essay in becoming an actress and "having a fling in Hollywood." Instead she entered the teaching profession shortly after graduating from Denison University in 1913. She joined DePauw's English faculty in 1918 and stayed four years before getting married and leaving her teaching post. She rejoined the faculty in 1935, earned an M.A. at Ohio State University, and remained in the English department until her retirement with the rank of emeritus professor in 1956.
Professor Taylor traveled far and wide to study the Bard and to lecture about him. In 1953, a group of DePauw alumni anonymously arranged to pay their former teacher's fare to Great Britain, where she studied at Stratford-on-Avon and at the University of London.
Her writing included Growing Up with Shakespeare and Mother Goose Revisited.
"Many students told me that they never loved any faculty member the way they love her," notes her faculty colleague in the English department, Arthur Shumaker. "She first loved and cherished them and then showed them how to write or initiated them into the beauties and wisdom of Shakespeare." He adds, "What we can learn from the life of Edna Hayes Taylor is the power of love. She possessed love, and she gave it so freely that it was returned to her manifold."
Back