Prof. Jeff Kenney Discusses 'Religion in the Modern World' on Malaysian Radio Station
May 25, 2015
Jeffrey Kenney, professor of religious studies at DePauw University, discussed "Religion in the Modern World" in a nearly half-hour interview with BFM 89.9, Malaysia's only independent radio station.
The outlet notes that at DePauw, Dr. Kenney "teaches courses in comparative religious and Islamic studies. His research focuses on modern Islamic thought in Egypt and the greater Middle East, with a special interest in political religion, radicalism, and Islamist movements. He is the author of Muslim Rebels: Kharijites and the Politics of Extremism in Egypt and is more recently a co-editor of Islam in the Modern World."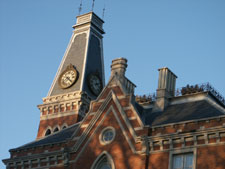 The station adds, "Professor Kenney was in Malaysia at the invitation of the Islamic Renaissance Front for a series of talks and forums on religious terrorism and freedom."
Audio is available by clicking here.
Learn more about Jeff Kenney in this previous story.
Source: BFM 89.9/Malaysia
Back