DePauw's Gallery Program Recognized for Upholding Best Practices in Museum Field
June 1, 2015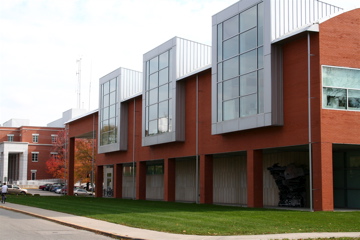 DePauw University's Richard E. Peeler Art Center galleries and collections have been recognized by the American Alliance of Museums as having an educational mission and the policies and plans in place that reflect best practices in the field.
This recognition reflects that the national professional organization for museums has verified- through an independent expert review-that DePauw University is committed to an education- based gallery and collection program. The review surveyed the program's policies and plans to ensure best practices in the areas of ethics, strategic planning, collections stewardship, and disaster preparedness and emergency response. To achieve this recognition, the museum participated in the Alliance's Core Documents Verification program.
Museums are working every day in support of their public service mission. They are partnering with schools to teach the local curriculum, bolstering the local economy by spurring tourism, fostering creativity and innovation, celebrating diverse cultures and heritages, and preserving our nation's important collections.
The galleries at the Richard E. Peeler Art Center are open during the summer with limited hours: Thursday-through-Friday from 10 a.m. – 4 p.m. and Saturday 11 a.m. - 5 p.m., and are closed during University breaks and holidays. For more information, click here.
Back