Boston Celtics Coach Brad Stevens '99 Receives DePauw's Young Alumni Award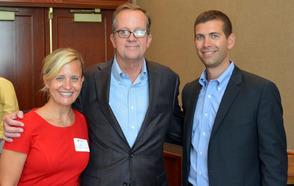 August 27, 2015
Brad Stevens, head coach of the National Basketball Association's Boston Celtics and 1999 graduate of DePauw University, received DePauw's Young Alumni Award at a private luncheon at the Conrad Indianapolis this afternoon. The award presentation was made by DePauw President Brian W. Casey, and the program included remarks by Mary Dixon, professor emerita of economics at DePauw, and Bill Fenlon, head men's basketball coach, who coached Stevens as an undergraduate.
"You're bold and you're adventurous, but you're not reckless," Dixon told Stevens, her advisee in college. "You're humble, but you celebrate effort. You're analytical, but you follow your gut. You lead, and most importantly, you trust others."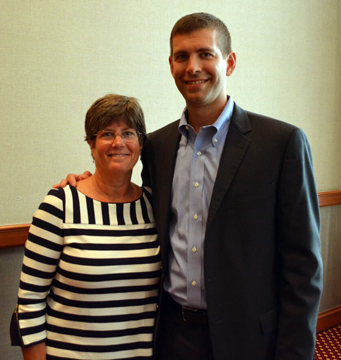 "Brad Stevens, coach of the Boston Celtics. For me that sentence is still pretty surreal," said Fenlon, who is entering his 24th year as coach of the Tigers. "It's surreal, but maybe not as much as you might think because I knew Brad would be hugely successful in whatever he decided to put his brain to."
The coach added, "It's also not a shock because I work at a place where people learn how to learn. They learn how to process information, they learn how to handle ups and downs, they learn how to compete, they learn about people and the world and they learn about their place in it." Fenlon said to Stevens, "We're all very proud of your success and, more importantly, the way you go about striving for it." (at left: Prof. Dixon with Stevens)
In presenting the award, Dr. Casey stated, "I would like to think that we're giving you this award not for your wins and losses, but for who you are as a person. And I'm telling you this University is so proud of you."
Stevens told the audience that as a student at DePauw, "I was really
challenged to do well, to keep afloat, you know, on the court, in the classroom, in a lot of ways." He added, "I also learned to be a good teammate," after transitioning from a starter to a role player as his college playing career progressed. "All of my foundational things in coaching or my foundational philosophy with coaching started with the idea that I first had to become that."
Stevens was joined by DePauw alumni members of his family, grandmother Mary Guild Lothamer '46 and aunt Judith Drompp Guild '53, as well as his wife, Tracy Wilhelmy Stevens '99. Also in attendance were Stevie Baker Watson, director of athletics; Kris Huffman, head women's basketball coach; and student-athletes from the men's and women's basketball teams: Adam Botts '16, Angela Hacker '16, Melinda Franke '18, Ann Gillard '19 and Maya Howard '19.
The award by DePauw University's Alumni Association Board of Directors is typically presented each June at Alumni Reunion Weekend, but Stevens was unable to travel to Greencastle because of other commitments.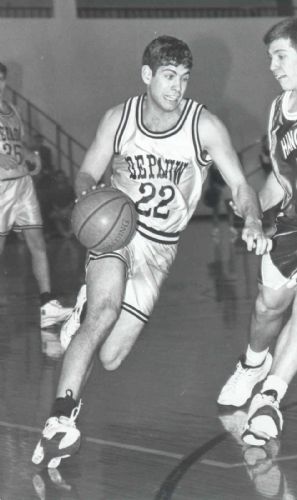 An economics major and Management Fellow, Brad Stevens played four years on the Tiger basketball team earning all-conference and academic all-conference honors. "My experience at DePauw was about as beneficial as any experience I've had," he told ESPN.com in November 2013.
After graduation, he took a job as a marketing associate at Eli Lilly and Company and, in his spare time, served as a volunteer basketball coach at Carmel High School. In 2000, Stevens realized his real love was coaching and left his executive-track job for a volunteer position at Butler University. Soon after, he was named the Bulldogs' coordinator of basketball operations, and a year later was tapped as an assistant basketball coach. On April 5, 2007, he was named -- at age 30 -- to lead the Division I men's basketball program.
Stevens led Butler to a 166-49 record, including a 12-5 record in the NCAA Men's Basketball Championship and two consecutive trips to the national championship game (in 2010 and 2011). His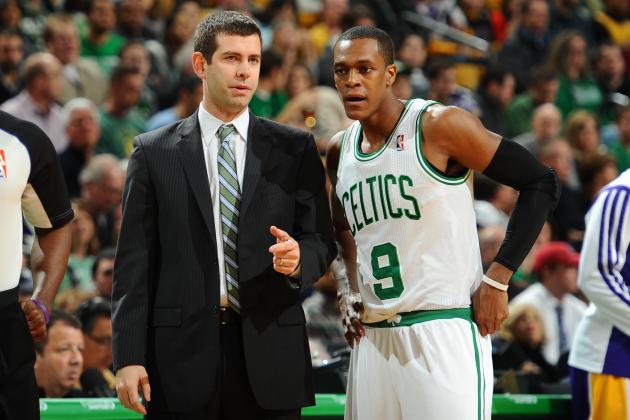 166 wins are the most for any NCAA Division I basketball coach over the first six years to start a career. He was named the head coach of the Boston Celtics in July 2013, becoming the youngest head coach in the NBA.
As Stevens led the Celtics to an NBA playoff appearance this spring, David Willis wrote in in the Eagle-Tribune of North Andover, Massachusetts, that Stevens "has been called a coaching prodigy, a wunderkind and compared to legends from John Wooden to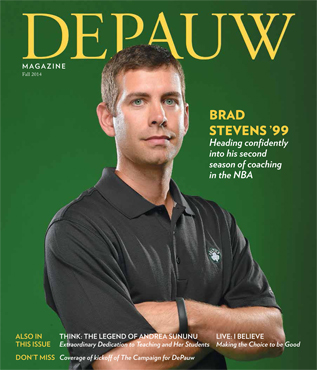 Gregg Popovich ... (He) is a master technician, whose even demeanor has a calming impact on his players, and whose preparation is unrelenting."
Fox Sports notes, "Celtics head coach Brad Stevens is a virtuous Xs and Os magician. He summons the very best out of those who play for him and puts guys in the best possible position to succeed."
On April 13, 2010, Brad Stevens returned to his alma mater to deliver the Robert C. McDermond Lecture. He was featured in the Fall 2014 edition of DePauw magazine.
Back