About 1,400 Celebrate "A Magic Place" During DePauw's Alumni Reunion Weekend
June 6, 2015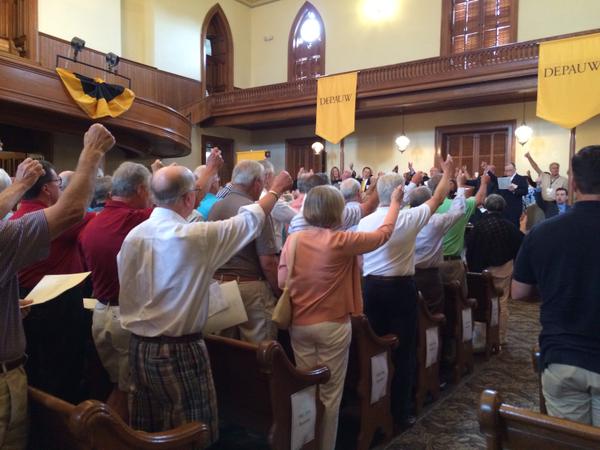 "This is a magic place, it's a special place, it's an important place," DePauw University President Brian W. Casey told the alumni and friends who filled the college's Meharry Hall in historic East College this morning for the annual Alumni Convocation. The traditional celebration is an element of DePauw's Alumni Reunion Weekend, which began Wednesday and continues through tomorrow.
"We go through life and we never know what need," Casey told the audience. "And we have our seasons and we have our rhythms, but we always need some form of magic and we need magic places. And this is one of those places."
"In 1965, we had our whole lives ahead of us," Ralph Jones said to his classmates, who are back on campus for their 50th reunion. "Today, we still have the rest of our lives ahead of us. And now, we have the wisdom and means to make them even more productive."
Jones -- who taught at Harvard, founded the Cadmus Group, Inc., which provides services in environmental protection and energy, and has served as a local elected official in Massachusetts -- noted, "If my years at DePauw taught me anything, it was that I could do volunteer work in addition to school work. While in Greencastle, I worked on WGRE, The DePauw, the debate team, Student Senate, the Young Democrats, and so forth. So, when invited to coach youth basketball and soccer in Belmont, I agreed, and did that for 13 years. When invited to work in local government in Belmont, I also agreed. 2014 marked my 25th year in elected or appointed office."
Jones acknowledged, "I didn't have a closing message until I started reading about the careers of fellow alumni. My ideas were reinforced by listening to the
discussions on Thursday. It appears that most of us are dedicating ourselves to some form of service to others." Citing two examples of classmates who have made major commitments to service, he stated, "They seem to characterize the Class of 1965. We have energy, vision, and now we have experience; and we want to bring these qualities to bear in the service of others."
It was noted that the Class of '65 has raised $3.55 million for DePauw since its 45th reunion and has collectively contributed $7,441,731 since graduating.
Ann Sparenberg Hand, one of Fortune's 10 Most Powerful Women Entrepreneurs in 2013, addressed the silver anniversary Class of 1990. DePauw, she said, "taught us all to have an approachable,
humble quality that made us adaptable, and I just think helped us overall have a lot of success in life. It (also) gave us a really great toolkit of skills. I think I learned to look at life's challenges with a lot more balance."
Hand most recently served as CEO of venture-backed Project Frog and has held executive positions in the energy industry, including serving as global CEO of BP's multi-billion dollar liquefied gas business and later running brand, marketing and innovation worldwide.
The convocation also included the debut of DePauw (There is No Explanation), a song created for the Class of 1965 by Scott Perkins, assistant professor of music; Joseph Heithaus, professor of English; Stephen Shannon '16 and Mallory Hasty '17.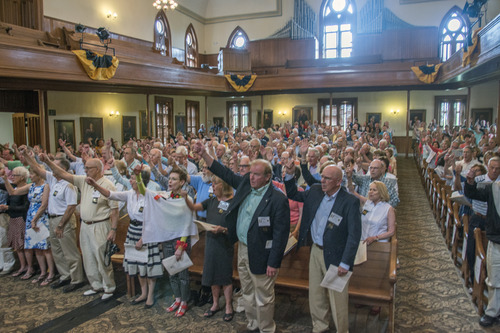 Last night, Sarah Reese Wallace '76, former chair of the DePauw University Board of Trustees, was presented with DePauw's Old Gold Goblet for 2015. The honor is given annually to recognize "eminence in life's work and service to alma mater."
Wallace, who was the first woman to lead DePauw's board, said, "DePauw is an important place with an important mission. We educate critical thinkers who will serve as leaders in the world where our children and grandchildren will live and work. There is no more important work to be done."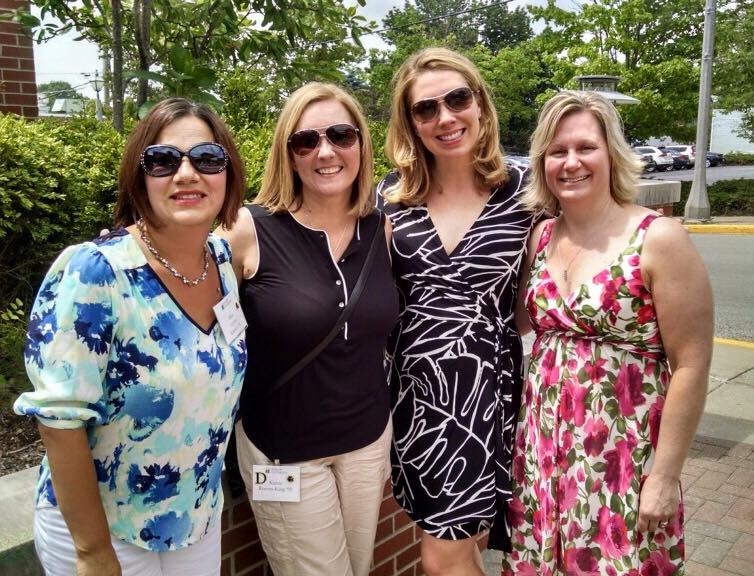 She added, "You all have made my journey memorable and the defining experience of my life."
Alumni Citations were also awarded to Anne Korb Shane '71, Ian B. Davidson '80 and Susan Stirling Little '59.
Alumni Reunion Weekend continues through tomorrow. For a complete listing of events, click here.
Back