The Remarkable Life of John Bartlow Martin '37 is Subject of New Biography
June 4, 2015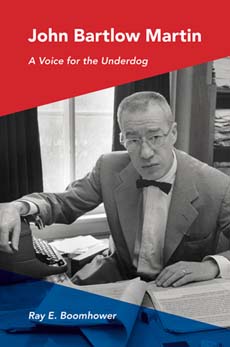 The life of John Bartlow Martin -- a journalist, author, diplomat and 1937 graduate of DePauw University who was connected to some of the most prominent Democratic politicians of the 20th century -- is recounted in a new book. John Bartlow Martin: A Voice for the Underdog is authored by Ray E. Boomhower and is available through the Indiana University Press.
A synopsis notes, "During the 1940s and 1950s, one name, John Bartlow Martin, dominated the pages of the 'big slicks,' the Saturday Evening Post, LIFE, Harper's, Look, and Collier's. A former reporter for the Indianapolis Times, Martin was one of a handful of freelance writers able to survive solely on this writing. Over a career that spanned nearly fifty years, his peers lauded him as 'the best living reporter,' the 'ablest crime reporter in America,' and 'one of America's premier seekers of fact.' His deep and abiding concern for the working class, perhaps a result of his upbringing, set him apart from other reporters. Martin was a key speechwriter and adviser to the presidential campaigns of many prominent Democrats from 1950 into the 1970s, including those of Adlai Stevenson, John F. Kennedy, Lyndon B. Johnson, Robert F. Kennedy, Hubert Humphrey, and George McGovern. He served as U.S. ambassador to the Dominican Republic during the Kennedy administration and earned a small measure of fame when FCC Chairman Newton Minow introduced his description of television as 'a vast wasteland' into the nation's vocabulary."
The Chicago Tribune states that Boomhower's book "should be mandatory reading in journalism schools across the land." Bradley J. Hamm, dean of the Medill School of Journalism, adds, "John Bartlow Martin's critical work as a journalist -- and as an ambassador and professor -- influenced public policy and journalism itself, and his life deserves the study and recognition found in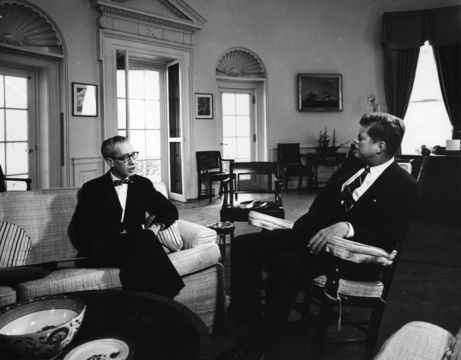 Ray Boomhower's new biography."
Martin, who was editor of The DePauw as an undergraduate, authored 15 books and taught journalism at Northwestern University. He was inducted into the Indiana Journalism Hall of Fame in 1999. He died on January 3, 1987 at age 71 in Highland Park, Illinois. (photo: Ambassador Martin and President Kennedy talk in the Oval Office of the White House; March 2, 1962)
Learn more, and order the book, at the publisher's website.
In 2010, Ray Boomhower authored the biography of another DePauw graduate, World War II hero Alex Vraciu '41. It's noted in this previous story.
Back