Ethics Beyond the Walls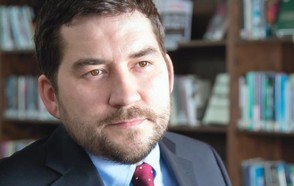 June 4, 2015
Feminist media critic Anita Sarkeesian was scheduled to speak at Utah State University in October 2014. Unknown to most outside of a few Internet circles, Sarkeesian and her Web series on misogyny in video games had gained the unwanted attention of a small, but loud contingent of gamers. Loosely united under the Twitter hashtag #GamerGate , the group claimed to support "ethics in games journalism," but their most consistent outreach came in the form of vicious campaigns of harassment, online and off, against those who disagreed with them, particularly young women. Following two anonymous threats of mass shootings at Sarkeesian's Utah State talk – and the inability under Utah law for the university to prevent firearms from entering the auditorium – she canceled her appearance.
Almost overnight, Sarkeesian (and by association #GamerGate) jumped from an online-edition curiosity to the cover of Bloomberg Businessweek and the front page of the New York Times. The sheer absurdity of the situation – "All this angst over games?" one Times story commenter asked – sparked the earliest interest, but as her message began to drown out the noise surrounding it, Sarkeesian herself became the main attraction. Soon, she was a guest on "The Colbert Report" and a subject of ABC News' Nightline.
But Sarkeesian is not the subject of this story. Her rise to fame happened while Andrew M. "Andy" Cullison '01 was in his first months as director of the Janet Prindle Institute for Ethics. In that brief time, before anybody thought that a visiting video game critic might require special security considerations, Cullison had already snagged Sarkeesian as a speaker at Prindle's 2015 Undergraduate Ethics Symposium. The order of events is important here because it hints at the direction Prindle is heading under Cullison: straight and unapologetically to the heart of 21st century ethical inquiry.
Brave new world
On Nov. 2, 2014, Alex Lee arrived at his part-time job at a Frisco, Tex., Target as a normal 16-year-old kid. Unbeknown to him, while he was checking customers out, a British teen was checking him out, or rather, an innocuous picture of him in his Target outfit she had somehow stumbled across online. She did what teens now do, posting the picture to her Twitter account with the comment "YOOOOOOOOOOO." By the time his mom picked him up from work that evening, "Alex from Target" had become an Internet superstar with more Twitter followers than former NFL quarterback Brett Favre, whose image adorned Lee's bedroom wall. Somebody an ocean away thought Alex was cute, the Internet tracked him down, and now he's famous. There is no better explanation than that, which makes it all the more troubling.
Issues such as anonymity and privacy are not new, but Alex from Target demonstrates just how problematic they become in a world with social media. In other words, conversations about ethics are suddenly very relevant to young people. And Cullison is nearly the perfect go-to for takes on ethics and technology. It's part of who he is, a member of the last generation to straddle life before and after the Internet. He still plays video games like the majority of people his age and younger, yet he is old enough to have earned academic bona fides as a philosopher. Epistemology became his passion while at DePauw, where he was a philosophy and English double major and a member of the University's first Ethics Bowl team. He joined SUNY-Fredonia's philosophy department in 2006, and he cofounded an app development company, Academy Geeks, while there.
"No other liberal arts college has anything that comes close to what we have here."

– Andy Cullison '01, director of The Janet Prindle Institute for Ethics
No one is surprised that Prindle's newest, youngest director brought a fresh perspective to the Institute. What has surprised about Cullison's brief tenure is just how quickly he has implemented his vision.
Launched in early September 2014, the Prindle Post (prindlepost.org) is Cullison's Trojan horse for bringing ethics into the vernacular. The Post looks like an honest-to-goodness online news commentary site, borrowing its format and topics from a world familiar to any Millennial. "You look at it, and you might think it's just another current events site," Cullison says. "It is, but in a subtly different sense. A news site might say who, what, where and why. And I guess you might say we elaborate on the why."
The Post's first digital pages featured stories about Ray Rice, the former Baltimore Ravens running back who was dismissed from the team after a video of his domestic abuse became public; last summer's massive hack and subsequent leak of hundreds of private celebrity photos; and, yes, one about Sarkeesian. The bulk of the stories are written by Prindle's student ethics interns. The stories are short and to the point, laying out the ethical tensions present in the topics people are talking about, particularly the people Cullison is charged with educating.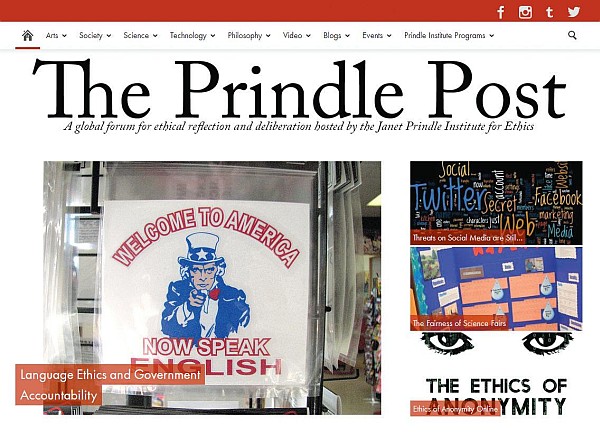 "One of my goals for our interns is to cultivate a capacity for ethical awareness and ethical reasoning," Cullison says. "I think it's important to try to find and focus on issues that are relevant to students. It's just good fodder for cultivating these skills. The nice thing is that they're not just doing it for a class; they're doing it for this thing that has the potential to have a really huge impact."
Taking on difficult questions
The Prindle Institute for Ethics has traditionally provided a wide array of programming on campus, including visiting scholars, speakers, forums and a student intern program. Now, with the launch of the online Prindle Post, Cullison is working to move ethics education and discussion of ethical issues well beyond the walls of the Institute.
Prindle at a Glance
A gift from Janet W. Prindle '58, a Wall Street pioneer for women, made possible the construction of The Janet Prindle Institute for Ethics.

Mission

Transform DePauw students into thought leaders on ethical issues

Function as a nationally recognized institute in ethics education and research

Distinctive feature

Only Ethics Institute at a liberal arts college

What the Institute has done

Speakers and campus programming

Student Intern program

Faculty reading groups

Visiting scholars

Undergraduate Ethics Symposium

Community Outreach

Alternative Spring Break

What the Institute has added

Prindle Post

Prindle Prize Program

Young Philosophers

High school outreach

Expanding study hours

Summer retreats
"To my knowledge, there is not an institute like this at any other exclusively liberal arts college," says Cullison, who also serves as secretary-treasurer of the American Philosophical Association's Eastern Division and a member of the APA's board of officers. "No other liberal arts college has anything that comes close to what we have here, which is odd because ethics is perhaps one of the most interdisciplinary kinds of study that you can embark on. And being competent to span a range of disciplines is what liberal arts colleges offer."
That's why Cullison established the Prindle Prize program, covering five general education categories. Through this new program, every class that a student takes at DePauw effectively becomes an opportunity for the student to be honored and recognized for thinking seriously about the issues in whatever field he or she is studying.
As Cullison points out, grappling with any serious ethical issue requires an individual to be able to draw upon different subject areas. "If you're going to figure out what you should do about an issue, what you ought to do about something going on in another country, or whether or not to pass a law, you have to know a little bit about the relevant history, a little bit about the background psychology, a little bit about the culture you're dealing with and sometimes a little bit about the relevant science," Cullison says. "There's going to be a little philosophical reasoning involved about what sorts of things you ought to value. When there are competing values, how do you go about ranking them?"
What Plato thought
The Institute's primary goal is to transform DePauw students into thought leaders. "We want to prepare students to be thought leaders in the sense that they have the capacity to be the ones in the room who can identify the ethical issue that other people might miss," Cullison says. "And once they've identified that ethical issue, we want them to be the sort of person who can lead a thoughtful, reasoned, intelligent discussion about that issue."
It's also a goal to establish the Prindle Institute as a nationally recognized institute in ethics education and research, bringing leading thinkers to talk about ethical issues. The advantage of doing that, Cullison explains, is that "the goal of being a nationally recognized center of ethics education and research really serves the first goal, which is providing an excellent education for DePauw students."
The debate about whether you can make someone behave morally just by teaching them is one that dates back as far as Plato. The classical thinker, a key figure in the development of Western philosophy, believed that if you teach someone what is good, that person will naturally want to do what is good. And when a person doesn't do what is good, it's because the person doesn't know what is good.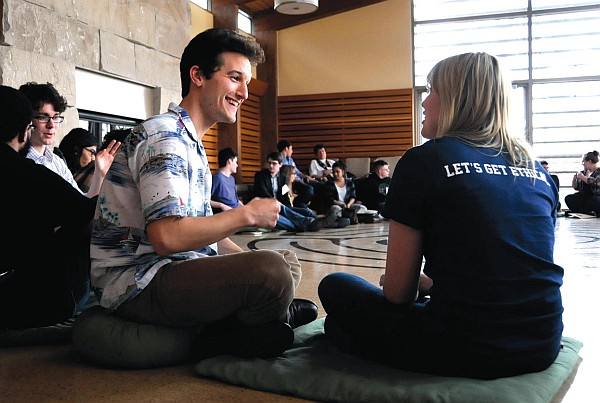 Cullison doesn't adhere to that argument entirely, but he does believe it is a good question to consider. "One thing that's interesting about ethics education and cultivating a capacity for ethical awareness," he says, "is in order to reason through an ethical issue, one of the things you need to start understanding is how it might affect other people."
How does the issue affect people outside your own circle of friends, outside your own community? Those questions are particularly relevant at a liberal arts college like DePauw, which has long been a leader in preparing and encouraging students to study abroad, participate in Winter Term projects and internships off campus, and be involved in community service.
"History is filled with examples where people change their moral opinions about things with respect to other groups when they just get to know those other groups," Cullison says. As he leads the Prindle Institute for Ethics in expanding its programs for students and broadening the discussion of ethics on a national level, it becomes clear that an important purpose of ethics education is to cultivate students' and others' ability to understand and appreciate what it's like to be someone else in a situation different than their own – whether it's in person or online.
(Written by Christopher L. Wolfe and Larry G. Anderson for DePauw Magazine, Spring 2015.)
Back