Sophomore Places 8th in Summer X Games Motorcycle Race
June 8, 2015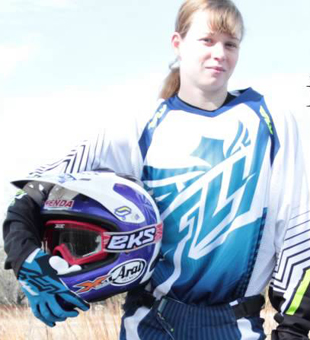 "Rachel Gutish of Terre Haute placed eighth in the nationally televised Women's Enduro X motorcycle race as part of the Summer X Games on Friday night," reports the Terre Haute Tribune-Star. "The 19-year-old graduate of Terre Haute North High School and a sophomore at DePauw University finished the course in 7 minutes, 54.9 seconds."
"Out of the seven X Games events I've competed in, this is my worst-ever finish," Gutish tells the newspaper. "I ended up eighth, not even making the top half. It especially bites coming off of a bronze medal [third place] last year. But that's how racing goes and every rider on that gate earned the right to be there. All are worthy competitors. Everyone has really stepped it up in the last few years and this not-so-stellar finish just serves as more motivation for the future."
Access the article at the newspaper's website.
Rachel L. Gutish is a psychology and philosophy double major at DePauw with a minor in business administration. She is a pole vaulter on the Tiger women's track and cross country team.
Back