"Fighter for Equal Rights" Douglas Hallward-Driemeier '89 Profiled as SCOTUS Decision on Same-Sex Marriage Nears
June 24, 2015
"It was 1977 when he first felt the sting of injustice," begins an article in The Hill, the newspaper of Capitol Hill. "Douglas Hallward-Driemeier's elementary school was being forced by a court order to integrate with the neighboring black school."
"I actually remember that my best friend at the time left, moved out to another area because of the integration and how hurt I was about that," Hallward-Driemeier, an attorney at Ropes & Gray LLP and 1989 graduate of DePauw University, tells the publication. "That just struck me as very wrong."
Lydia Wheeler writes, "Little did the St. Louis, Mo., native know that, more than 30 years later, he would be at the center of what some are calling the civil rights fight of the 21st century, arguing on behalf of same-sex couples for marriage equality. A Harvard Law graduate who received his undergraduate degree from DePauw University in Indiana and was a Rhodes Scholar at the University of Oxford, Hallward-Driemeier has argued 16 cases before the Supreme Court."
A political science major and a Spanish minor, Hallward-Driemeirer argued the case before the high court in late April. A ruling is expected soon. The attorney was brought into the case by Chris Stoll, senior staff attorney for the National Center for Lesbian Rights and 1991 DePauw graduate. "Stoll and Hallward-Driemeier were friends at DePauw University and classmates at Harvard Law School," the article notes.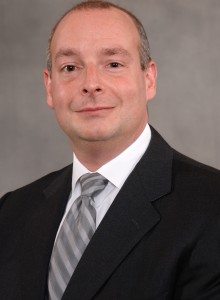 "We knew immediately we needed a lot of help from an attorney and firm that has resources and deep experience with the court," Stoll (pictured at left) says. "Doug's name came to mind immediately."
Stoll tells The Hill that Hallward-Driemeier presented a compelling case to the Supreme Court. "He was both forceful and thoughtful at the same time. He answered the justices' questions with clarity, and I really felt that all of the justices were connecting with him and understanding the points he was making, whether or not they agreed with him."
Access the complete story, "Fighter for Equal Rights," here.
Also available is this recent summary.
Back