Provocative Art of Guerrilla Girls On Display at Peeler Center, Sept. 3 - Dec. 11
July 13, 2015
Also: New Media Artist & Physicist Combine for 'Mediation,' at Peeler Center Aug. 26 - Oct. 14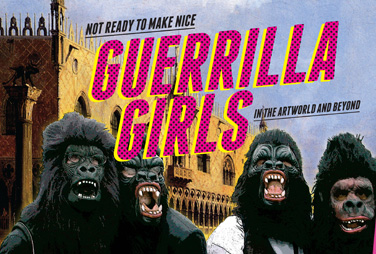 DePauw University's Richard E. Peeler Art Center will present provocative work by the anonymous Guerrilla Girls artists in an exhibition opening September 3. "Not Ready to Make Nice: Guerrilla Girls in the Artworld and Beyond" will remain on view until December 11 and is presented free of admission charge.
Guerrilla Girls is a feminist collective famous for combining humor, hard facts and art on street posters, billboards and stickers. Their creations draw attention to the underrepresentation of women artists and artists of color in museums around the world. The exhibition features major works from rarely shown international projects tracking the group's artistic and activist influence around the globe.
The DePauw exhibition is organized by in-house curator Craig Hadley, in partnership with Neysa Page-Lieberman, curator of "Not Ready to Make Nice: Guerrilla Girls in the Artworld and Beyond" and director and curator of the department of exhibitions, performance and student spaces at Columbia College Chicago.
The exhibition also includes documentary material depicting famous actions, behind-the-scenes photos, secret anecdotes from the movement and iconic work from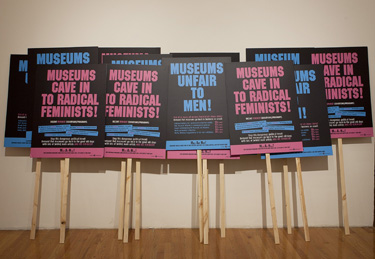 the 1980s and 1990s illustrating the evolution of the group's feminist-activist philosophy and unique approach to arts activism. The Guerrilla Girls maintain their anonymity by adopting the names of dead female artists and wearing gorilla masks. There are several interactive elements to the exhibition where visitors will be encouraged to leave comments and messages relating to the content of the show.
The galleries at the Richard E. Peeler Art Center are open Monday-Friday 10 a.m. – 4 p.m.; Saturday 11 a.m. - 5 pm; and Sunday 1 – 5 p.m., and are closed during University breaks and holidays. For more information, click here or email craighadley@depauw.edu.
Back